The 5 Best wine movies / shows
Les 5 Meilleurs films / émissions sur le vin
Lights. Camera. Wine. Action!
Lumières, Caméra, Vin, Action!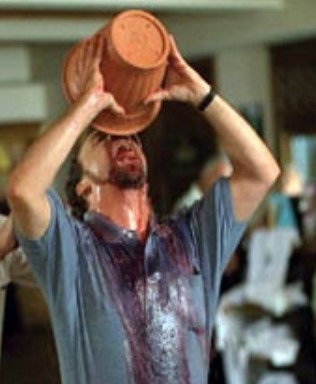 Sideways (2004)
Director: Alexander Payne
Great enough to increase Pinot Noir sales in the United States and anger Merlot drinkers. When failing, depressing writer Miles (Paul Giamatti) and not-so-good actor and soon-to-be-married Jack (Thomas Haden Church) embark on a week-long bachelor's wine tasting tour in Santa Barbara, a complex adventure begins.
Assez génial pour augmenter les ventes de Pinot Noir aux États-Unis et mettre les buveurs de Merlot en colère. L'écrivain raté Miles (Paul Giamatti) et l'acteur pas-si-bon, futur marié Jack (Thomas Haden Church)  partent pour un enterrement de vie de garçon d'une semaine de dégustation de vin à Santa Barbara, une aventure complexe commence.
Sour Grapes (2016)
Director: Jerry Rothwell, Reuben Atlas
Sour Grapes investigates the most embarrassing scandal ever that rocked the world of wine collectors by leaving as many as 40,000 "fake" bottles circulating. Some of them are still being found nowadays. The surreal story of Rudy Kurniawan who faked his way into the elitist group of rich wine connoisseurs is one that shattered all of the industry worldwide.
Sour grapes enquête sur le scandale le plus embarrassant qui a secoué le monde des collectionneurs de vin en laissant jusqu'à 40 000 «fausses» bouteilles en circulation. Certaines d'entre elles sont retrouvées encore aujourd'hui. L'histoire surréaliste de Rudy Kurniawan qui a fait sa place dans le groupe riche et élitiste des connaisseurs de vin est celle qui a brisé toute l'industrie dans le monde entier.
3.Uncorked (2015)
Esquire Network
Stars: Yannick Benjamin, Dana Gaiser, Morgan Harris, Jane lopes
The Master Sommelier, the toughest wine qualification to achieve makes a lot of sommeliers dream. This documentary follows NYC based candidates through their journey, studies and preparation for this stressful examination.
Le Master Sommelier, la qualification de vin la plus difficile à réaliser, fait rêver beaucoup de sommeliers. Ce documentaire suit des candidats de new york à travers leur aventure, leurs études et leur préparation pour cet examen stressant.
The wine show (2016)
ITV
Extremely addictive and beautifully shot show following two novice enthusiasts (Matthew Goode, Matthew Rhys) on a captivating journey into wine. Matt and Matt set off from their villa in the Italian countryside with a challenge. They must discover some of the best wines in Italy. With the help of wine experts Joe Fattorini and Amelia Singer they are searching great wine stories in the sweetest and most fun ways.
Season 2 is coming…
Extrêmement addictif et magnifiquement tourné, Wine show suit deux amateurs novices (Matthew Goode, Matthew Rhys) lors d'un voyage captivant autour du vin. Matt et Matt partent de leur villa dans la campagne italienne avec un défi. Ils doivent découvrir quelques-uns des meilleurs vins en Italie. Avec l'aide des experts en vin Joe Fattorini et Amelia Singer, ils sont à la recherche de grandes histoires de vin de la plus attendrissante et la plus amusante des façon.
La saison 2 arrive …
Somm (2013) and Somm: into the bottle (2016)
Director: Jason Wise
Two very different movie but you absolutely need to watch both. First one is a contest-based movie around contestant and wine appreciation, divulging all and none at the same time about the Court of master sommeliers famous red pin achievement. Second movie explore what is wine and why does it matter over 10 themes. The progression between the two is interesting and I can't wait to watch the third.
Deux films très différents, mais vous avez absolument besoin de regarder les deux. Le premier est un film basé sur les concurrents et l'appréciation du vin, en divulguant tout et rien en même temps sur le Court of master Sommeliers et la célèbre épingle rouge. Le deuxième film explore ce qu'est le vin et pourquoi importe-t-il en 10 thèmes. La progression entre les deux est intéressante et je suis impatiente de visionner le troisième.