Renowned and leading producer of the Minho region, Anselmo Mendes' name is closely linked to the Alvarhino variety, the region's hype and recent innovations. With his extensive research on local grapes, soils, vine's growth and winemaking processes, he's been adding his creator's touch to wines for more than 20 years now.
I had the chance of tasting most of the Anselmo Mendes Portfolio, with various vintages in some case in an extremely enticing meeting with the man himself in Porto. What we encountered was a down-to heart, inspiring man, who has an answer to every question as well as a huge line-up of fabulous wines.
Muros Antigos Escolha, 2017
A good representation of main grapes that Anselmo Mendes works with: Alvarinho, Loureiro and Avesso. This felt like a hint of what was yet to come. Overall, the wine was quite thin and flat yet with a blink of the Alvarinho structure, a subtle touch of the Avesso mineral aspect and just hints of Loureiro's freshness.
Passaros, Alvarinho – Loureiro, 2017
Very light for a wine half made of Alvarinho. It bears a simple saltiness that is pleasant at best.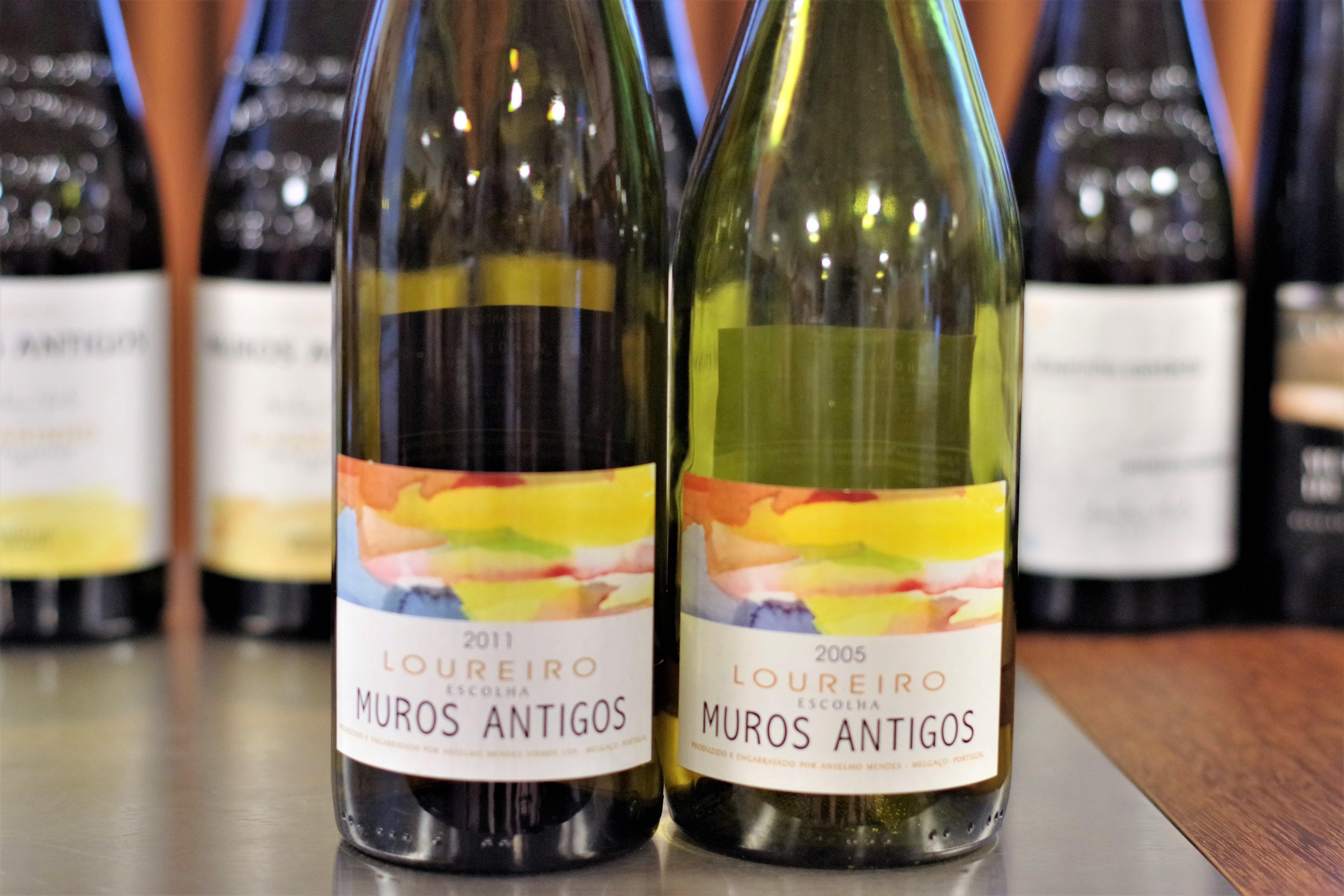 Muros Antigos, Loureiro, 2017
This wine is quite perfumed and delicate. Not much fruit upfront, but instead a lovely balanced mouthfeel.
💙 Muros Antigos, Loureiro, 2015
With just two year apart, this is a completely different wine. The acidity is relatively softer acidity and it has developed into oxidated and exotic, ripe aromas.
💙 Muros Antigos, Loureiro, 2011
It just keeps on getting more aromatic with time. It's still oxidative, yet with also aromas of beeswax, petrol and yeast. The acidity is getting replaced by an oily body.
💙 Muros Antigos, Loureiro, 2005
In a blind tasting, I would never, ever evn think of a Vinho verde, let alone a  Loureiro. Think of a dry Sauternes mixed with an hard cider and you'd be closer. The color itself is this amazing deep, brilliant golden shade. The complexity is extremely diversified, apart from the oxidative state, you'll get nuts, orange peel, bruised pear, hay, beeswax and even some sweet spices.
Anselmo Mendes Loureiro selection 2017
A very specific selection of Loureiro from parcels with the best soils. It's an exhuberant wine with clear, fresh litchi and dried floral aromas. Its lingering finish and very specific personality makes it a unique product.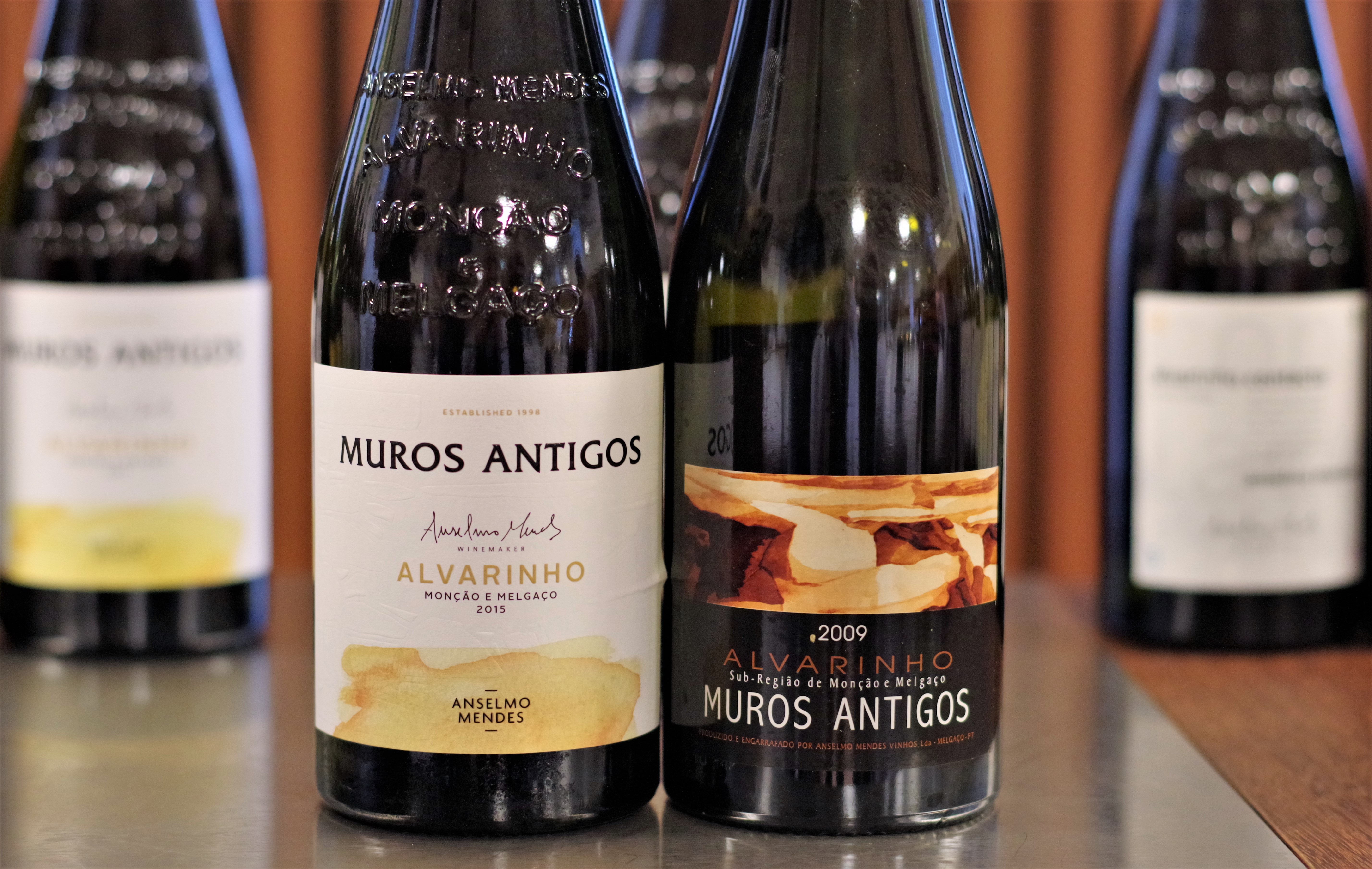 Muros Antigos, Avesso, 2017
Made in the region of Baiao from grapes of Quinta de Guimaraes, this avesso is ripe and soft with crushed stone and limey characteristics. It has a simple expression that makes it very approachable.
Muros Antigos Alvarinho 2017
Everythings about acidity in this wine. It starts with a strong sour attack that soften up into a lively finish.
💙 Muros Antigos Alvarinho 2015
This vintage was remarkable for its easy balance and poise. It has evolved into an exotic fruit fest with a wide body and a very vivid expression.
Muros Antigos, Alvarinho 2012
2012 is still quite fruity with interesting soft nectarine aromas and a hairy peach peel mouthfeel. However, it is getting rather flabby.
💙 Muros Antigos, Alvarinho 2009
This wine has transformed into a heavy one. It is still lively with fresh taste of citrus zest, orange peel and cinnamon but it's also very oxidized, rich and rounded.
Contacto, 2017
This wine is made from Alvarhino grown in specific favorable soils and 4 month of barrel ageing with batonnage. It doesn't have the acidity previous wines had. However, it has an intricate phenolic aspect and big, round body. The barrels are really just apparent in the structure and it doesn't have any wood-related aromas.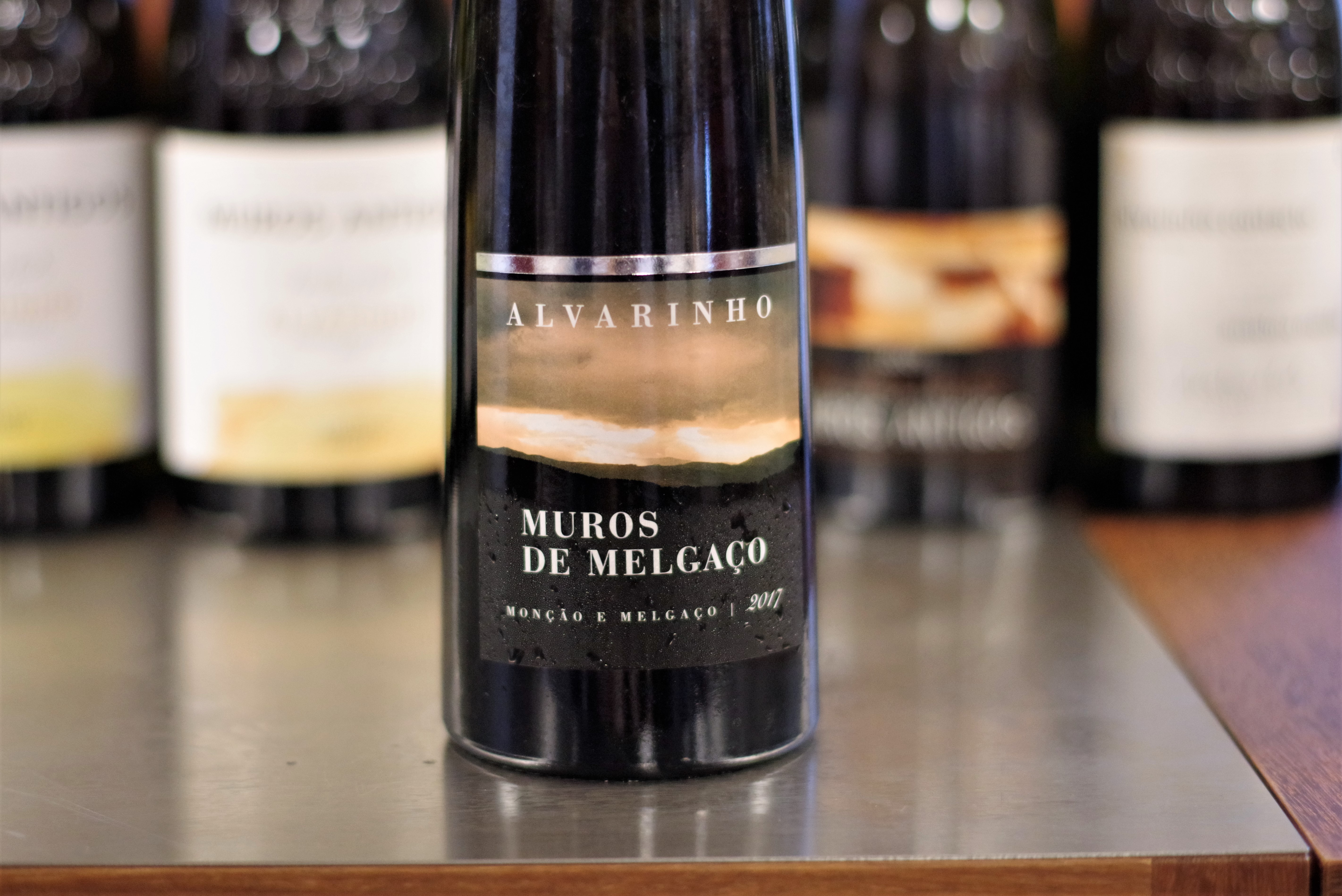 💙 Muros de Melgaço, 2017
This is an Alvarhino made from a specific parcel in Melgaço. It's been kept in 400l barrels for 6 months which gives it a subtle and interesting smoky character.
Expressoes, 2016
The next wines are building up in wood affected character. The expresses does have the smokiness of the Muros de melgaço, yet with a widened expression and a more oaky presence. It's been kept for 6 months in barrels yet, of all the oak-treated wines of the portfolio, it felt like the most balanced.
Curtimenta 2016
This one is kept 9 months in barrels. It is getting quite structured and full-bodied. On the nose the oak character is quite integrated and joined with pleasant nutty, nougat aromas. However, on the palate the oak is stronger and powerful. Oddly, this wine does not undergo any racking. The plan is to use the oxidative effect of oak against the reductive effect of the lees.
Parcela Unica 2016
One of the most renown and acclaimed wine of Anselmo mendes' portfolio is this intensely textured Parcela Unica. It's definitely the richest wine for now and proves wronganyone who still had doubt about Vinho verde's versatility. To achieve such depth and structure from Alvarhino grape is quite the winemaking prowess. However, this might not be suitable for enjoying just yet. How pushing the experiment further and see what time has stored for it in the future.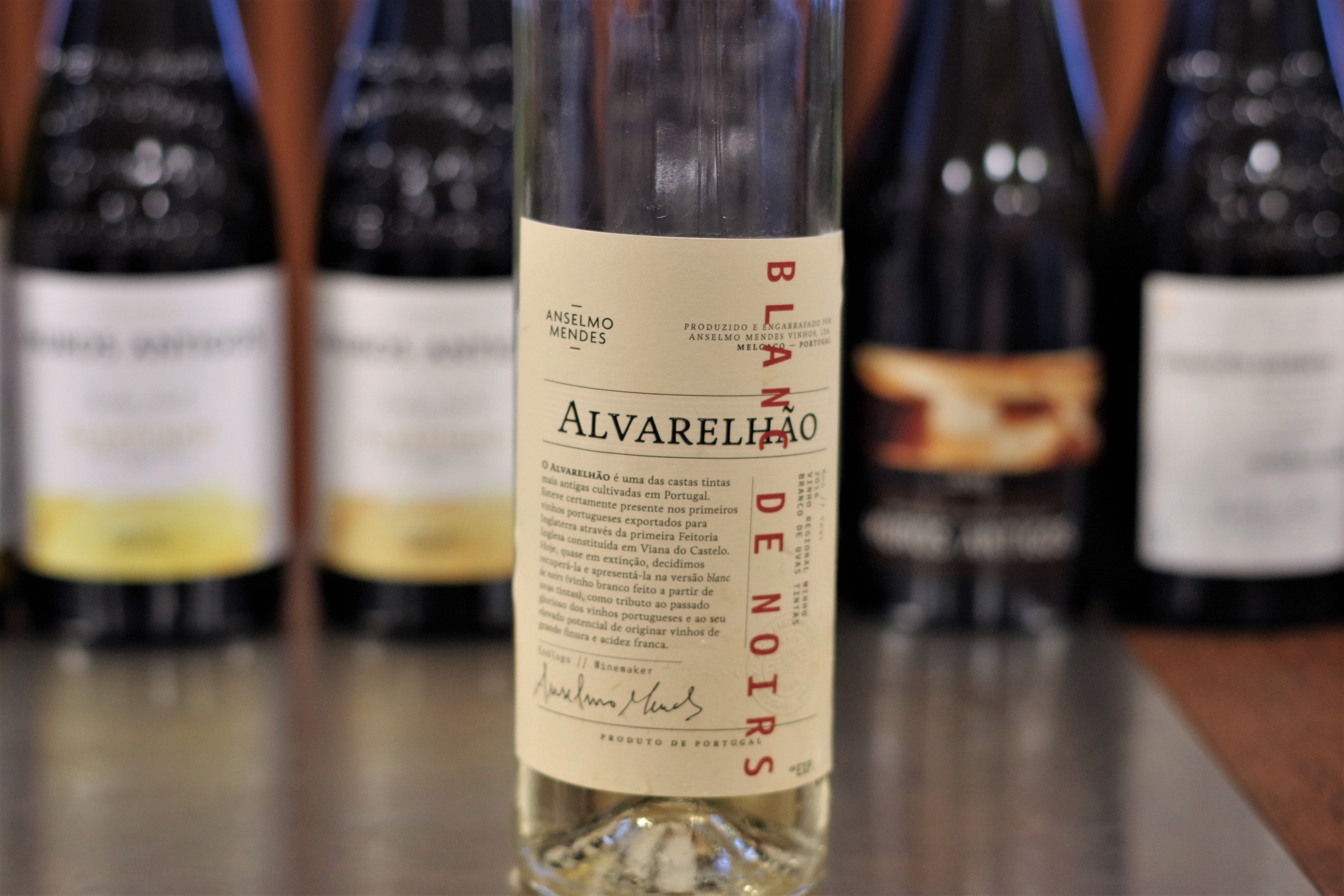 💙 Anselmo Mendes Blanc de noirs
A white wine made with the local red grape Alvarelhão. This one is particularly soft and interesting. Light red fruits aromas meets delicate floral, smoky and white pepper notes. The finish is a little short but it's great while it last.
💙 Anselmo Mendes, Tempo, 2015
Tempo has spent more time in oak than any other wines of the portfolio, a total of 12 months on used barriques. Surprisingly, it is not at all about oak. Instead, the wine's character is in its very waxy texture and burnt caramel aromas.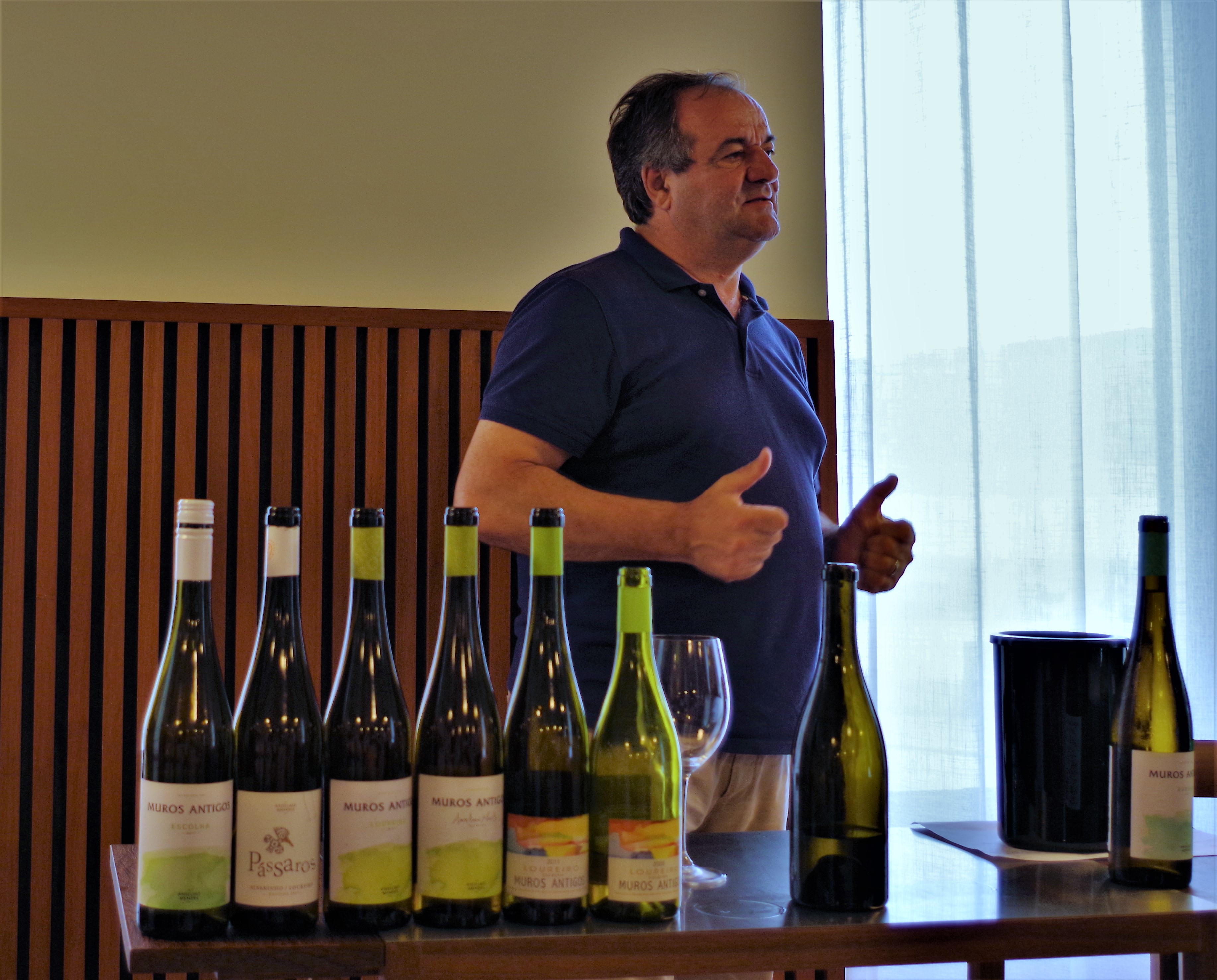 Anselmo Mendes
Producteur renommé et leader de la région du Minho, le nom d'Anselmo Mendes est étroitement lié à la variété Alvarhino, à la nouvelle popularité de la région et aux récentes innovations. Avec ses recherches approfondies sur les cépages locaux, les sols, la croissance de la vigne et les processus de vinification, il ajoute sa propre touche et sa créativité aux vins depuis plus de 20 ans maintenant.
J'ai eu la chance de goûter la plus grande partie du Portfolio d'Anselmo Mendes, avec divers millésimes dans certains cas lors d'une rencontre extrêmement intéréssante avec l'homme lui-même à Porto. Ce que nous avons rencontré était un homme terre-à-terre, inspirant, qui a une réponse à toutes les questions ainsi qu'une énorme gamme de vins fabuleux.
Muros Antigos Escolha,
Une bonne représentation des cépages qu'Anselmo Mendes utilise principalement: Alvarinho, Loureiro et Avesso. Ce vin semblait être un aperçu de ce qui devait venir encore. Dans l'ensemble, le vin était assez mince et plat mais avec un clin d'œil à la structure de l'Alvarinho, une touche subtile de l'aspect minéral de l'Avesso et juste quelqes notes de fraîcheur du Loureiro.
Passaros, Alvarinho – Loureiro
Très léger pour une moitié de vin faite d'Alvarinho. Il porte une salinité simple qui est au mieux agréable.
Muros Antigos, Loureiro, 2017
Ce vin est assez parfumé et délicat. Pas beaucoup de fruits mis de l'avant, mais plutôt une belle bouche équilibrée.
💙 Muros Antigos, Loureiro, 2015
À seulement deux ans d'intervalle, c'est un vin complètement différent. L'acidité est relativement plus molle et s'est développée en arômes mûrs oxydés et exotiques.
💙 Muros Antigos, Loureiro, 2011
Ce vin ne fait que devenir plus aromatique avec le temps. Il est encore oxydatif, mais avec aussi des arômes de cire d'abeille, de pétrole et de levure. L'acidité est remplacée par un corps huileux.
💙 Muros Antigos, Loureiro, 2005
Dans une dégustation à l'aveugle, je ne penserais jamais, jamais à un Vinho Verde, encore moins à un Loureiro. Pensez à un Sauternes sec mélangé avec un cidre et vous seriez plus proche. La couleur elle-même a cette nuance profonde, brillante et dorée incroyable. La complexité est extrêmement diversifiée, en dehors de l'état oxydatif, vous obtiendrez des noix, de l'écorce d'orange, de la poire meurtrie, du foin, de la cire d'abeille et même des épices douces.
Anselmo Mendes Loureiro sélection 2017
Une sélection très spécifique de Loureiro de parcelles avec les meilleurs sols. C'est un vin exubérant au litchi frais et aux arômes floraux secs. Sa finition persistante et sa personnalité très spécifique en font un produit unique.
Muros Antigos, Avesso
Fabriqué dans la région de Baião à partir de raisins de Quinta de Guimarães, cet Avesso est mûr et doux avec des caractéristiques de pierre concassée et de citron. Il a une expression simple qui le rend très accessible.
Muros Antigos Alvarinho 2017
Tout est question d'acidité dans ce vin. L'attaque est poignante, mais s'adoucit en une finale vive.
💙 Muros Antigos Alvarinho 2015
Ce millésime était remarquable pour son équilibre et son calibre. Il a évolué en un festival de fruits exotiques avec un corps large et une expression très vive.
Muros Antigos, Alvarinho 2012
L'année 2012 est encore assez fruitée avec des arômes de nectarine douce et une bouche de pêche velue. Cependant, il devient plutôt plat.
💙 Muros Antigos, Alvarinho 2009
Ce vin s'est transformé pour devenir assez corpulant. Il est encore vif avec un goût frais de zeste d'agrumes, d'écorce d'orange et de cannelle mais il est aussi très oxydé, riche et rond.
Contacto
Ce vin est fabriqué à partir d'Alvarhino cultivé dans des sols spécifiques favorables et vieillit pendant 4 mois avec du batonnage. Il n'a pas l'acidité des vins précédents. Cependant, il a un aspect phénolique complexe et un grand corps riche. Les barils sont vraiment apparents dans la structure seulement et n'ont aucun arôme lié au bois.
💙 Muros de Melgaço, 2017
Ceci est un Alvarhino fabriqué à partir d'une parcelle spécifique à Melgaço. Il a été conservé dans des fûts de 400 litres pendant 6 mois ce qui lui confère un caractère fumé subtil et intéressant.
Expressoes, 2016
Les vins suivants présentent une accumulation de l'effet de l'élevage sous bois. Expressoes a le même aspect fumé que Muros de melgaço, mais avec une expression élargie et une présence plus boisée. Il a été conservé pendant 6 mois en barriques mais, de tous les vins traités en chêne du portefolio, il semble le plus équilibré pour le moment.
Curtimenta 2016
Celui-ci est conservé 9 mois en barriques. Il devient assez structuré et corsé. Au nez, le caractère de chêne est assez intégré et joint avec d'agréables arômes de noisette et de nougat. Cependant, en bouche, le chêne est plus fort et puissant. Curieusement, ce vin ne subit aucun soutirage. Le plan consiste à utiliser l'effet oxydant du chêne contre l'effet réducteur des lies.
Parcela Unica 2016
L'un des vins les plus renommés et les plus acclamés d'Anselmo mendes est ce Parcela Unica à la texture intense. C'est définitivement le vin le plus riche pour l'instant et prouve à tort quiquonque aurait encore des doutes sur la polyvalence du Vinho Verde. Atteindre une telle profondeur et structure de la part d'Alvarhino est franchement une prouesse de vinification. Cependant, cene serait peut être pas l'idéal d'en profiter tout de suite. Pourquoi ne pas pousser l'expérience plus loin et voir ce que le temps a stocké pour Parcela Unica après vieillissement.
💙 Anselmo Mendes, Tempo, 2015
Tempo a passé plus de temps en chêne que tout autre vin, soit un total de 12 mois sur barriques d'occasion. Étonnamment, il n'y a aucune expression de chêne. Au lieu de cela, le caractère du vin est dans sa texture très cireuse et ses arômes de caramel brûlé.