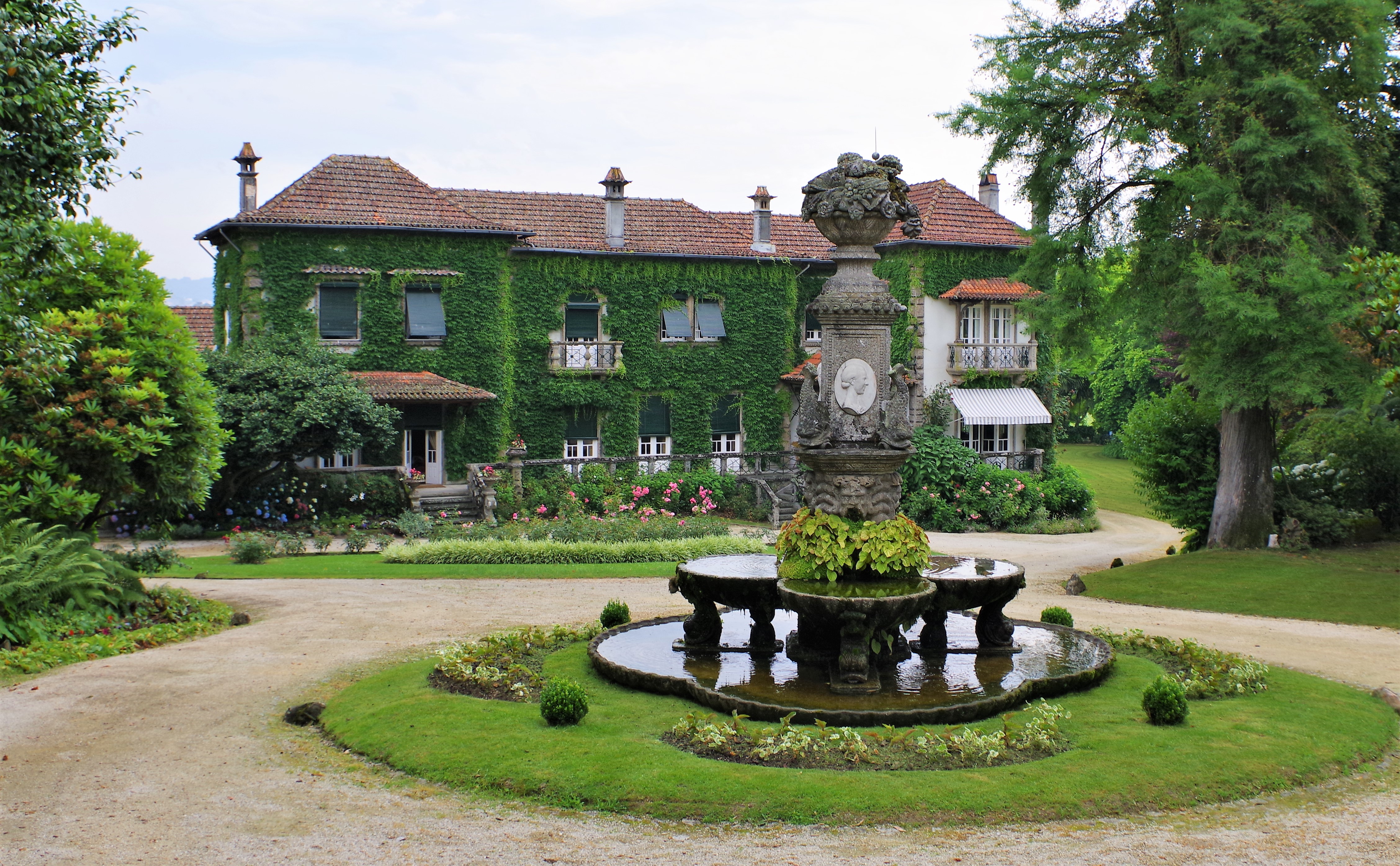 In the array of Vinho Verde brands, Aveleda is one of the biggest, if not the biggest of them all. It is a huge business and one of the first in the region to reach such commercial status. Since its creation in 1870, the company has succeeded in staying family owned and is now at the 5th generation. The Guedes family is closely linked to the Vinho Verde production and history. They've been part of the regions innovation in their own way. For example, Aveleda was the first estate to bring extensive use of vine organization in rows instead of pergolas, thus, greatly enhancing efficiency.
Obviously, from an estate producing a total of 17 million bottles per year including the #1 sold Vinho Verde in the world: the Casal Garcias labels, I had some factory-style expectations. I was partially true, as we arrived, we could see rows of humongous stainless steel vats and we knew we were at the right place. However, everything afterwards was a completely different world. The generous and gorgeous garden hides some unique treasures and follies such as a giant 200 years old Eucalyptus tree and a Manueline Window from the 16th century where D. João IV was supposedly pronounced king. Also, once in a while between the diversity of trees, plants and flowers, we would get a glimpse of the infinite rows of vines surrounding the estate.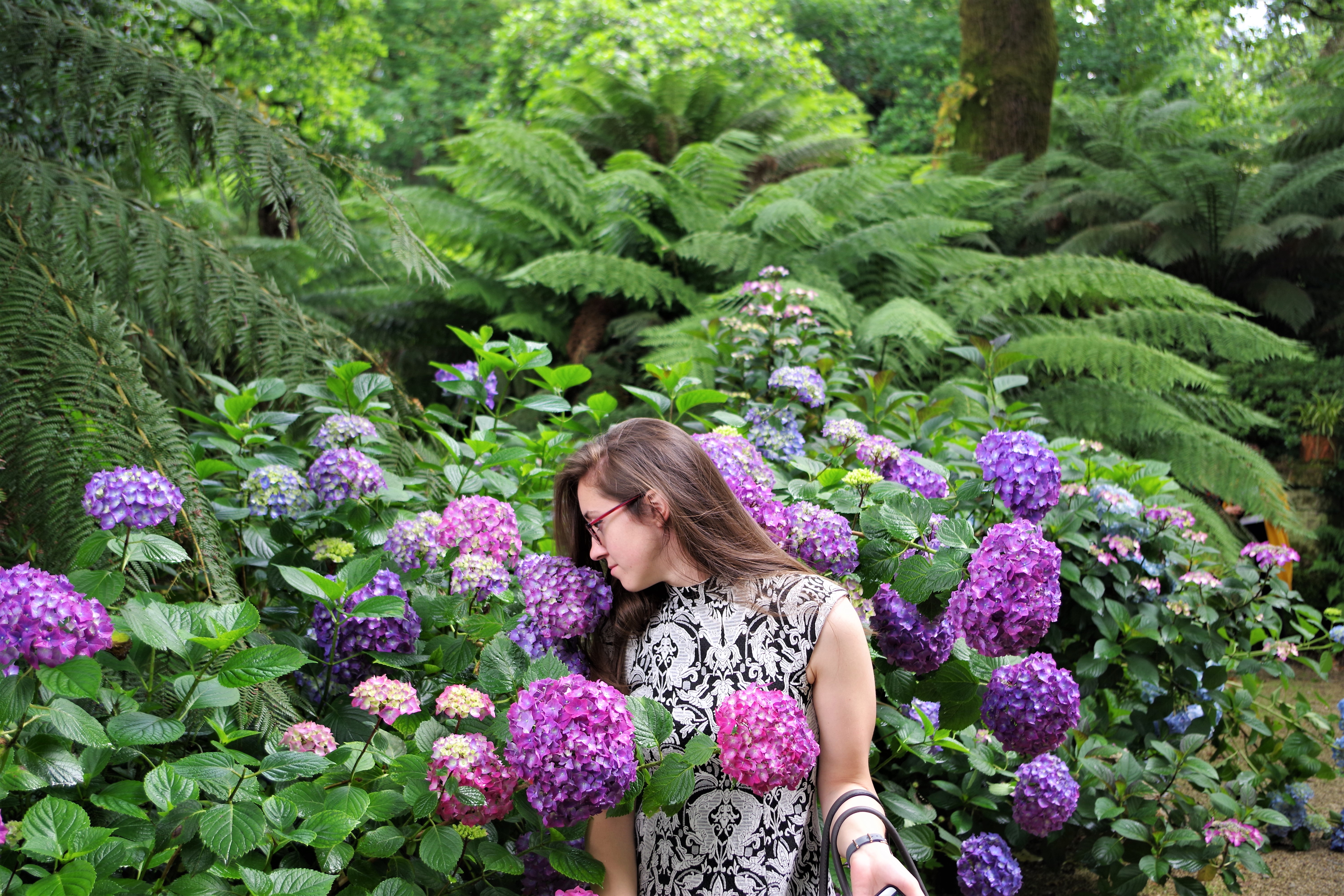 The contrast that I felt on site was also present in the wines. As I was expecting some simple mass market wines, I was astonished to discover that their premium wines are nothing close to simple and easy but instead truly unique and characterful.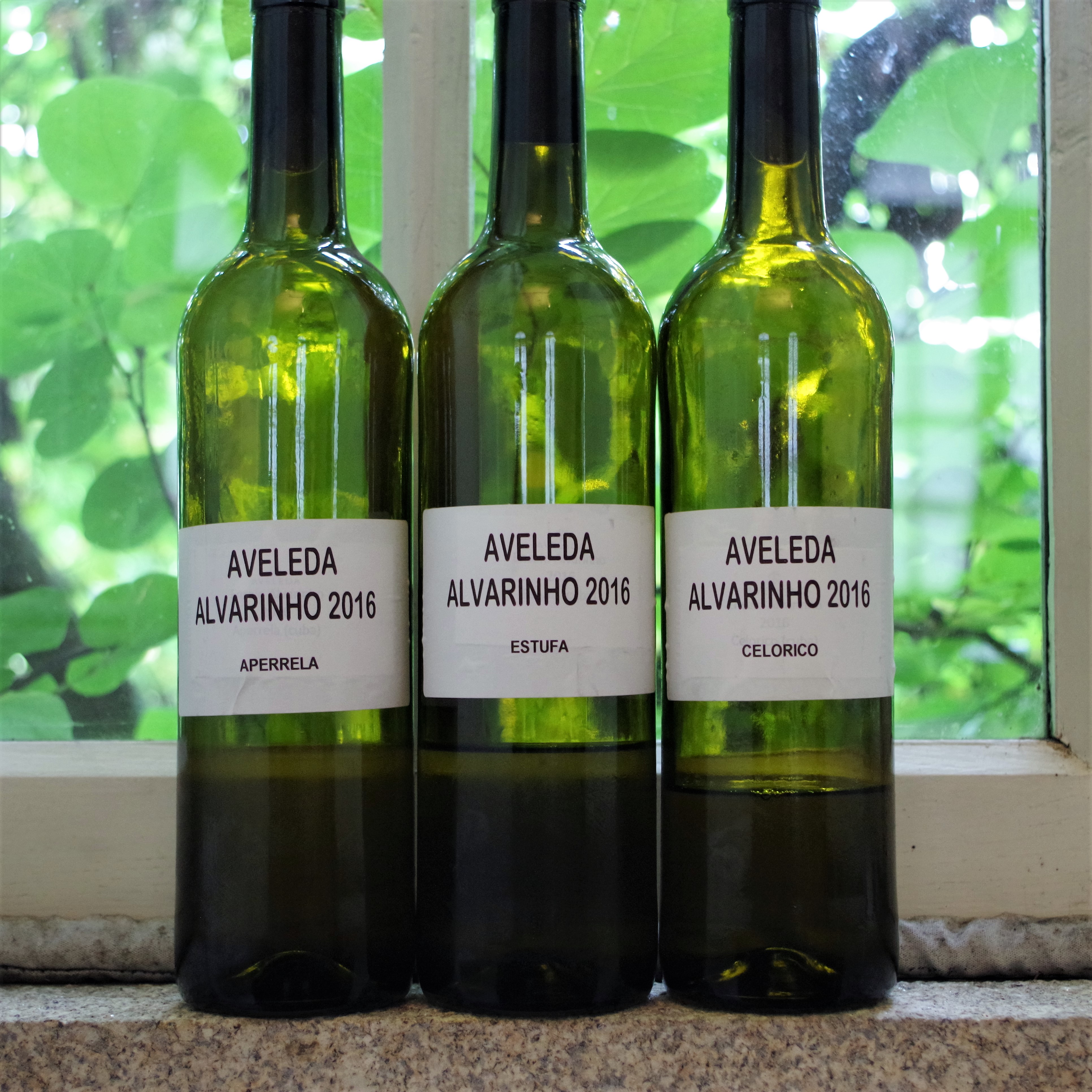 Parcel wine #1: Alvarinho Aperrela 2016
This is a very complex and truly ripe wine. This specific parcel is known for its smoky and sweet taste with brioche and apple pie aromas.
Parcel Wine #2: Alvarinho Estufa 2016
This wine is strongly characterized by Umami flavors. It smells and taste like cooked morel mushrooms with added floral and zesty aromas.
Parcel wine #3: Albvarhino Celorico 2016
Situated in the Basto region, this is the widest and most buttery wine of the portfolio. It is bone-dry with a warming alcohol and oaky, spicy approach.
All those parcel wine will be bottled soon by the estate and put into market. Obviously, they won't be as available as their main labels but they are truly interesting, especially in comparison with one another.
Quinta de Aveleda 2005
We also had the chance to taste this aged amazing blend of Trajadura, Loureiro and alvarinho. The freshness is astonishing and extremely bright for a 13 years old Vinho Verde. The color itself is amazing and the aromas of orange, beeswax, apricot, and chamomile are joined by a strong body, structure and waxy mouthfeel. The estate has been keeping all their vintages up to 1997 to see the possible evolution.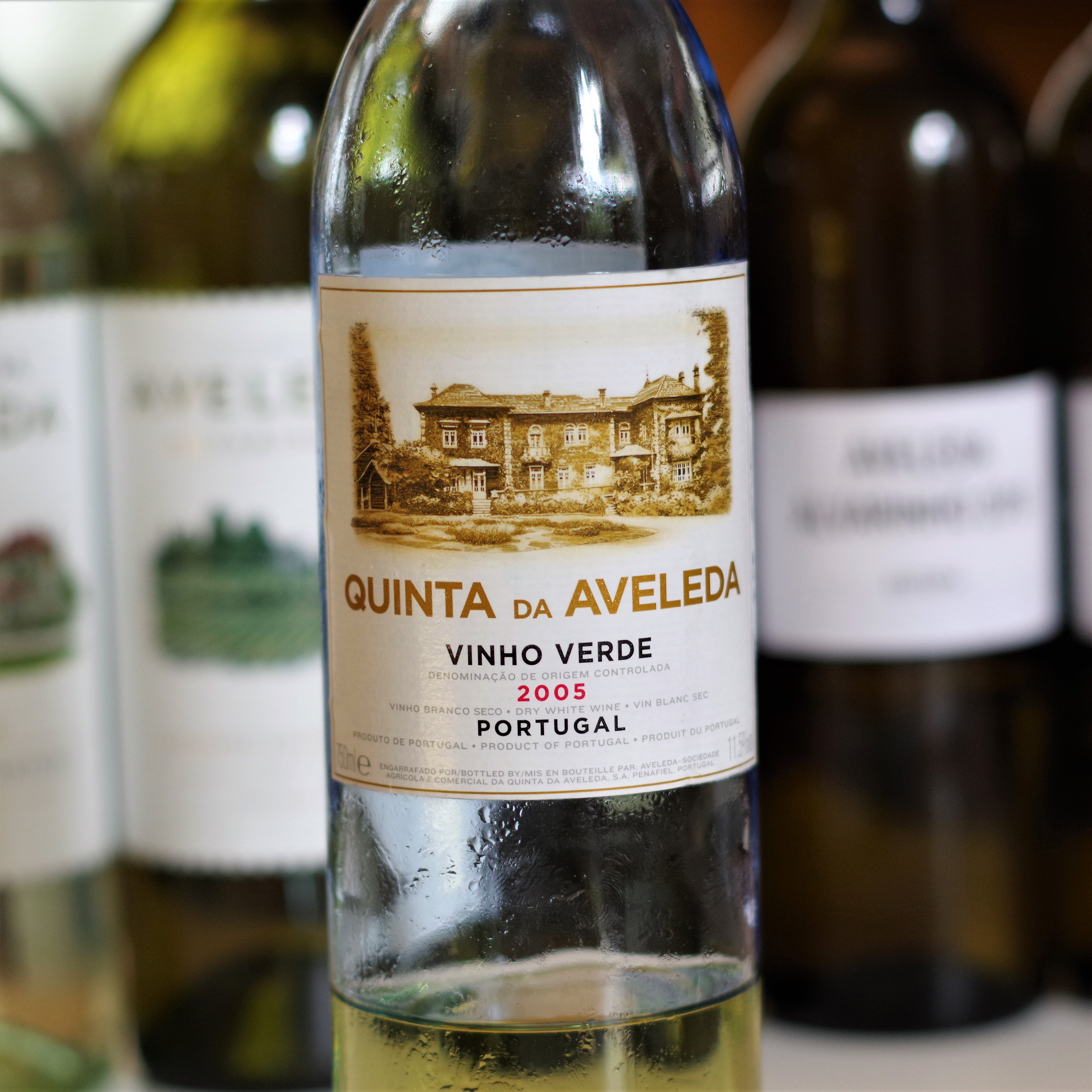 Aveleda
Dans l'éventail des marques de Vinho Verde, Aveleda est l'un des plus grands, sinon le plus grand de tous. C'est une entreprise énorme et l'une des premières dans la région à atteindre ce statut commercial. Depuis sa création en 1870, l'entreprise a réussi à rester familiale et est maintenant à la 5e génération. La famille Guedes est étroitement liée à la production et à l'histoire du Vinho Verde. Ils ont fait partie de l'innovation des régions à leur manière. Par exemple, Aveleda a été le premier domaine à utiliser largement l'organisation de la vigne en rangées plutôt qu'en pergolas, améliorant ainsi considérablement l'efficacité.
Évidemment, d'une propriété produisant un total de 17 millions de bouteilles par an, y compris le Vinho Verde le plus vendu: la gamme Casal Garcias, j'avais des attentes usinée. J'avais partiellement raison, car à notre arrivée arrivés, nous pouvions voir des rangées de cuves en acier inoxydable énormes et nous savions que nous étions au bon endroit. Cependant, tout après était un monde complètement différent. Le jardin généreux et magnifique cache des trésors et des folies uniques tels qu'un arbre géant de 200 ans et une fenêtre manuéline du XVIe siècle où D. João IV aurait été déclaré roi. De plus, de temps en temps entre la diversité des arbres, des plantes et des fleurs, nous avions un aperçu des rangées infinies de vignes qui entourent le domaine.
Le contraste que j'ai ressenti sur le site était également présent dans les vins. Comme je m'attendais à quelques vins simples du marché de masse, j'ai été étonnée de découvrir que leurs vins haut de gamme ne sont en rien simple et facile mais plutôt vraiment unique et de caractère.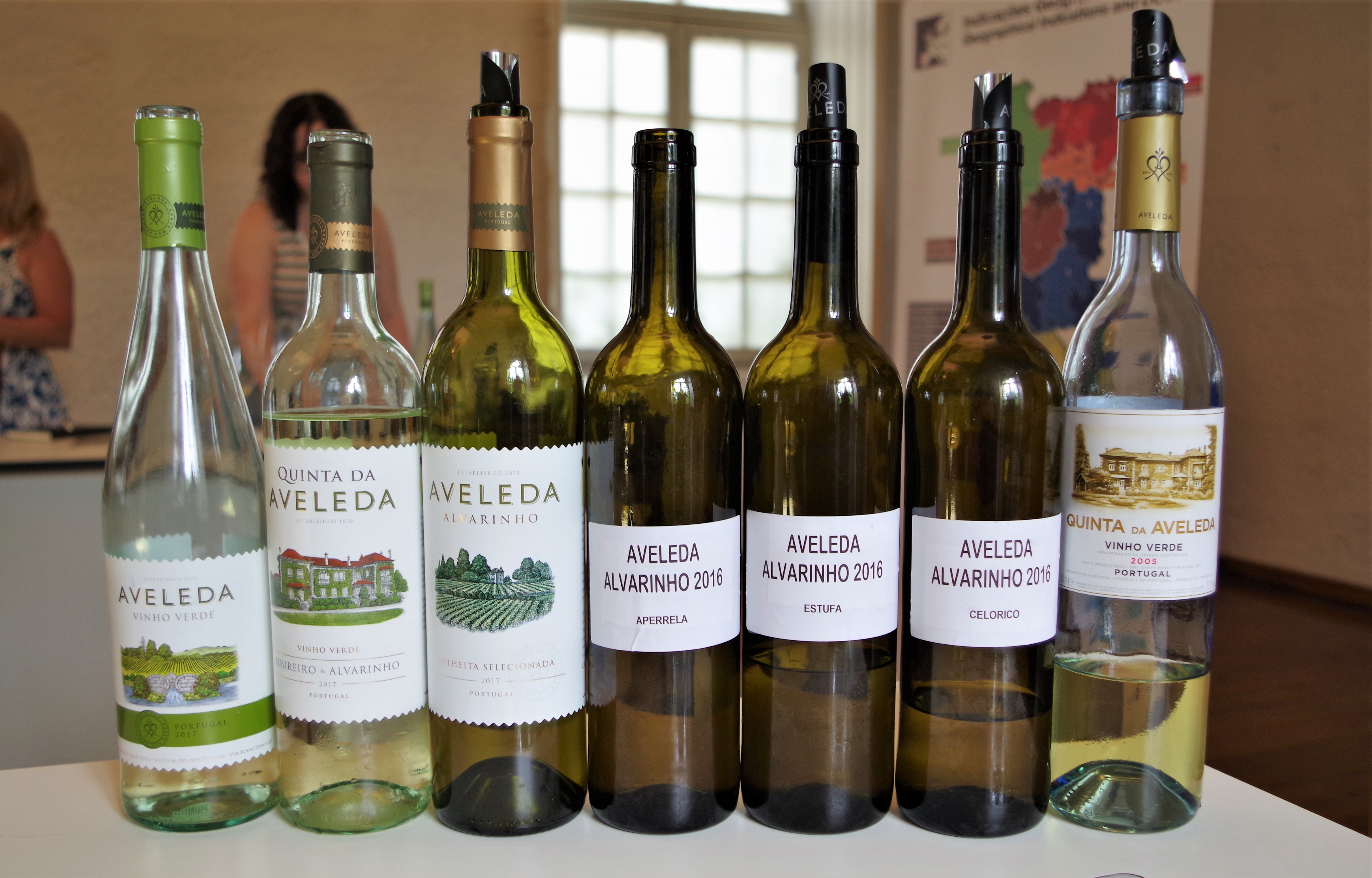 Vin de parcelle # 1: Alvarinho Aperrela 2016
C'est un vin très complexe et vraiment mûr. Cette parcelle spécifique est connue pour son goût fumé et sucré avec des arômes de brioche et de tarte aux pommes.
Parcel Wine # 2: Alvarinho Estufa 2016
Ce vin est fortement caractérisé par les saveurs Umami. Il sent et goûte comme des morilles cuites avec des arômes floraux et d'agrumes ajoutés.
Vin de parcelle # 3: Albvarhino Celorico 2016
Situé dans la région de Basto, c'est le vin le plus large et le plus beurré. Il est sec avec une approche alcoolique, boisée et épicée.
Tous ces lots de vin seront bientôt mis en bouteille par la propriété et mis sur le marché. Évidemment, ils ne seront pas aussi disponibles que leurs étiquettes principales mais ils sont vraiment intéressants, surtout en comparaison les uns avec les autres.
Quinta de Aveleda 2005
Nous avons également eu la chance de goûter à ce mélange étonnant de Trajadura, Loureiro et Alvarinho. La fraîcheur est étonnante et extrêmement lumineuse pour un Vinho Verde de 13 ans. La couleur elle-même est incroyable et les arômes d'orange, de cire d'abeille, d'abricot et de camomille sont unis par un corps fort, une structure et une bouche cireuse. Le domaine a conservé tous ses millésimes depuis 1997 pour voir l'évolution possible.