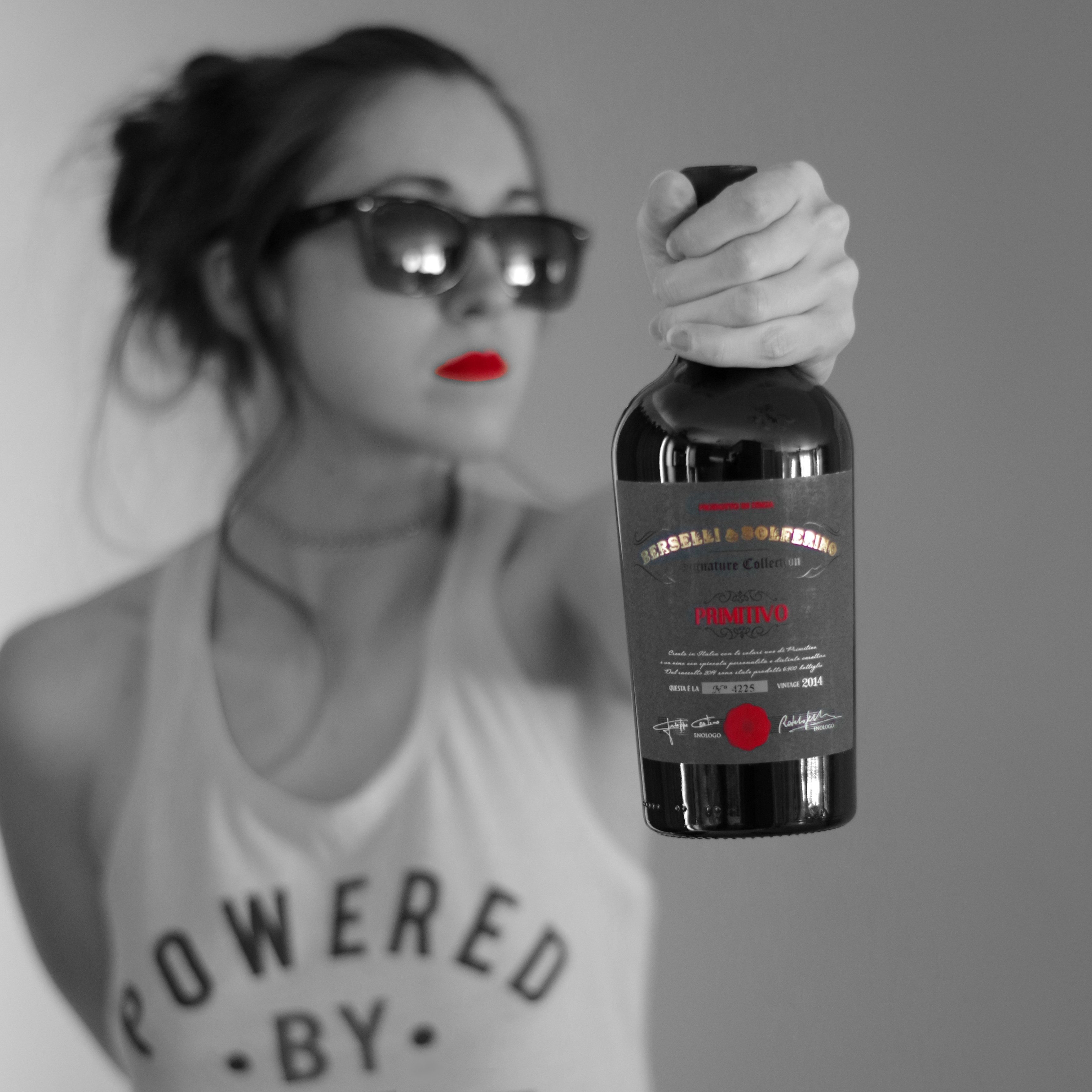 Italy's heel may not be incredibly renowned, but still everything the Italophiles craves is there in abundance: authenticity, tradition, warm weather, excellent local ingredients and most of all wines with great specificity. It's sometimes referred to as Apulia. Producers in Puglia have focused on making great red wines and local grapes like Negroamaro, Primitivo, Uva di Troia and Bombino Nero. Primitivo especially benefits from a new-found popularity. It is, in fact, the exact same thing as zinfandel even if the Puglian expression is quite distinctive, which may explain this consumer support and attention. Generally, it's a very dark and abundant grape with early, but uneven ripeness that needs quite consistent care.
Lucky us, there's a new wine from this interesting region available at the SAQ. A Primitivo obtained by carefully selected grapes grown in the Salento district, in the very heart of Puglia. Tradition, experience and sunshine fills this stately wine presented in a Clavelin-like, numbered bottle. It's opulent in intensity with a very ripe, almost cooked fruitiness. It's characterized by plums, dark chocolate, a robust structure and a wrapping slight sweetness. Surprisingly, even with its wide taste, it is not harsh at all. In fact, I find it quite rounded, juicy and easygoing, for this type of wine.
It's in this inspiring environment that Alma wines strive and make their signature new addition to their already very wide portfolio of over 60 products. They all represent and enhance the authenticity of most Italian regional production, from Piedmont to Sicily. Berselli & Solferino is no exception with the native varietal characteristic of Puglia as the very basis of its style and expression. The first vintage was the 2014, but the 2015 is now available. It's a project destined to make the varietal shine as well as connection between Alma wines and Puglia.
Code SAQ: 13487188
Le talon d'Italie n'est peut-être pas incroyablement renommé, mais tout ce que les Italophiles recherchent est là en abondance: authenticité, tradition, temps chaud, excellents ingrédients locaux et surtout des vins avec une grande spécificité. Les producteurs des Pouilles se sont concentrés sur la production de grands vins rouges et de cépages locaux comme le Negroamaro, le Primitivo, l'Uva di Troia et le Bombino Nero. Le Primitivo bénéficie notamment d'une popularité nouvelle. C'est, en fait, exactement la même chose que le zinfandel même si l'expression des Pouilles est assez distinctive, ce qui peut expliquer ce soutien et cette attention du consommateur. Généralement, c'est un cépage très sombre et abondant avec une maturité hâtive, mais inégale qui nécessite des soins assez constants.
Il y a un nouveau vin de cette région intéressante disponible à la SAQ. Un Primitivo obtenu par des raisins soigneusement sélectionnés cultivés dans le district de Salento, au cœur même des Pouilles. Tradition, expérience et soleil emplissent ce vin présenté dans une bouteille numérotée semblable à un Clavelin. Il est opulent en intensité avec un fruité très mûr, presque cuit. Il se caractérise par des prunes, du chocolat noir, une structure robuste et une légère douceur enveloppante. Étonnamment, même avec son goût large, il n'est pas dur du tout. En fait, je le trouve assez arrondi, juteux et facile à vivre, pour ce type de vin.
C'est dans cet environnement inspirant que les vins d'Alma s'efforcent de faire leur signature, un nouvel ajout à leur gamme déjà très vaste de plus de 60 produits. Ils représentent tous et renforcent l'authenticité de la plupart des régions italiennes, du Piémont à la Sicile. Berselli & Solferino ne fait pas exception avec la caractéristique variétale indigène des Pouilles comme la base même de son style et de son expression. Le premier millésime a été le 2014, mais le 2015 est maintenant disponible. C'est un projet destiné à faire briller le cépage ainsi que la connexion entre les vins d'Alma et les Pouilles.
Code SAQ: 13487188