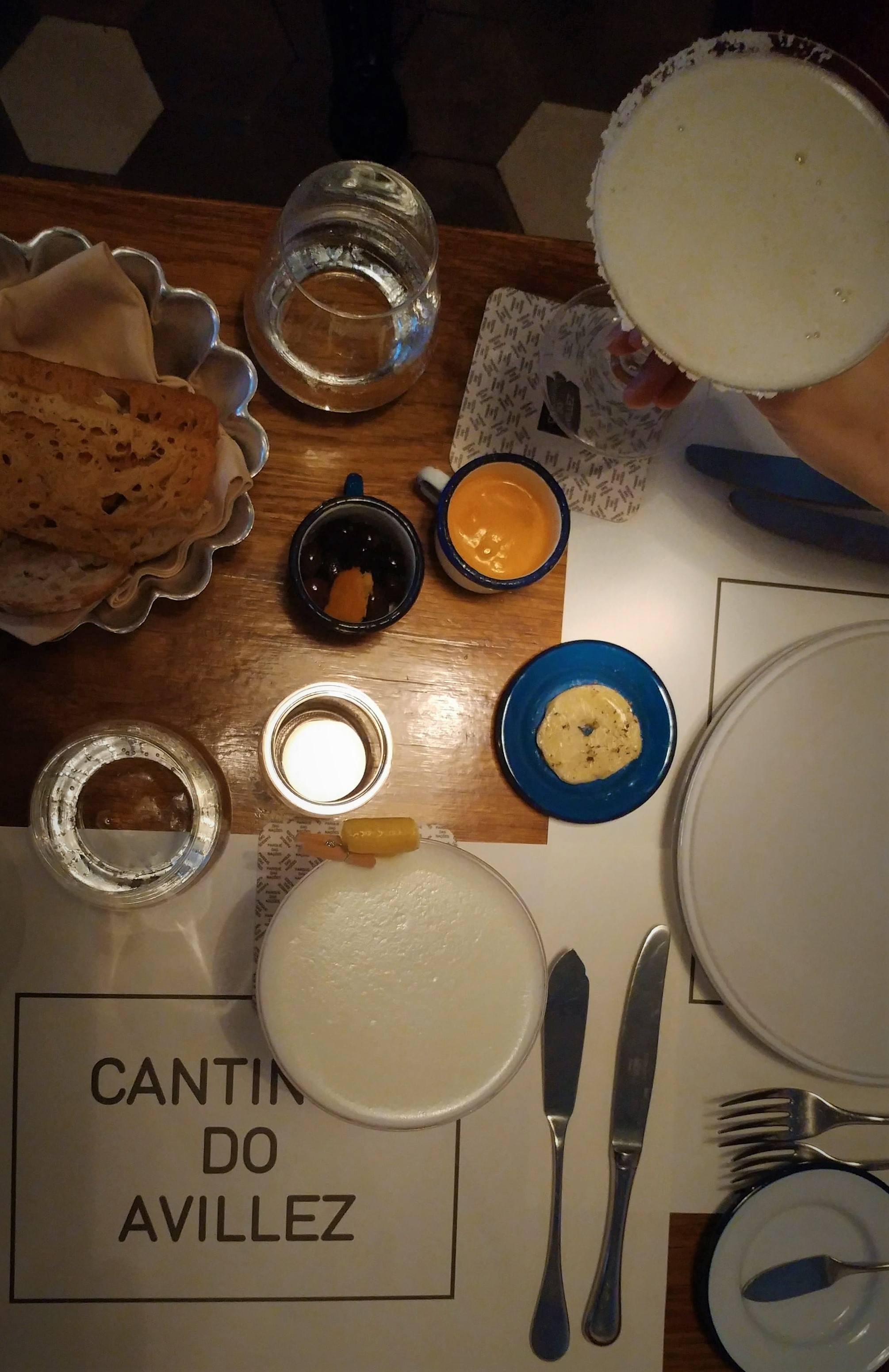 With such a proximity with the Atlantic, its many Affluent and the infinite valley, no wonder Portugal's unique food culture is so rich in sea food, delicate fishes and delicious specialities. However, with such a diversity of fresh products, it can be difficult to find the right things to try or the right place to experience what these lands have to offer. They say there's a thousand way to taste the traditional Bacalhau (Morue) but it would be a mistake to stick to this only.
Chef José Avillez has understood the richness and potential of Portuguese cuisine which is his main focus, and succeded in pushing it further. He contributes greatly in making Portugal a top gastronomic destination. He now owns an array of acclaimed restaurant in Lisbon and Porto. I had the chance to try one of them, Cantinho do Avillez, in Porto. It's a more relaxed and comfortable concept, with a menu that combines the most popular and most traditional dishes of the prestigious chef.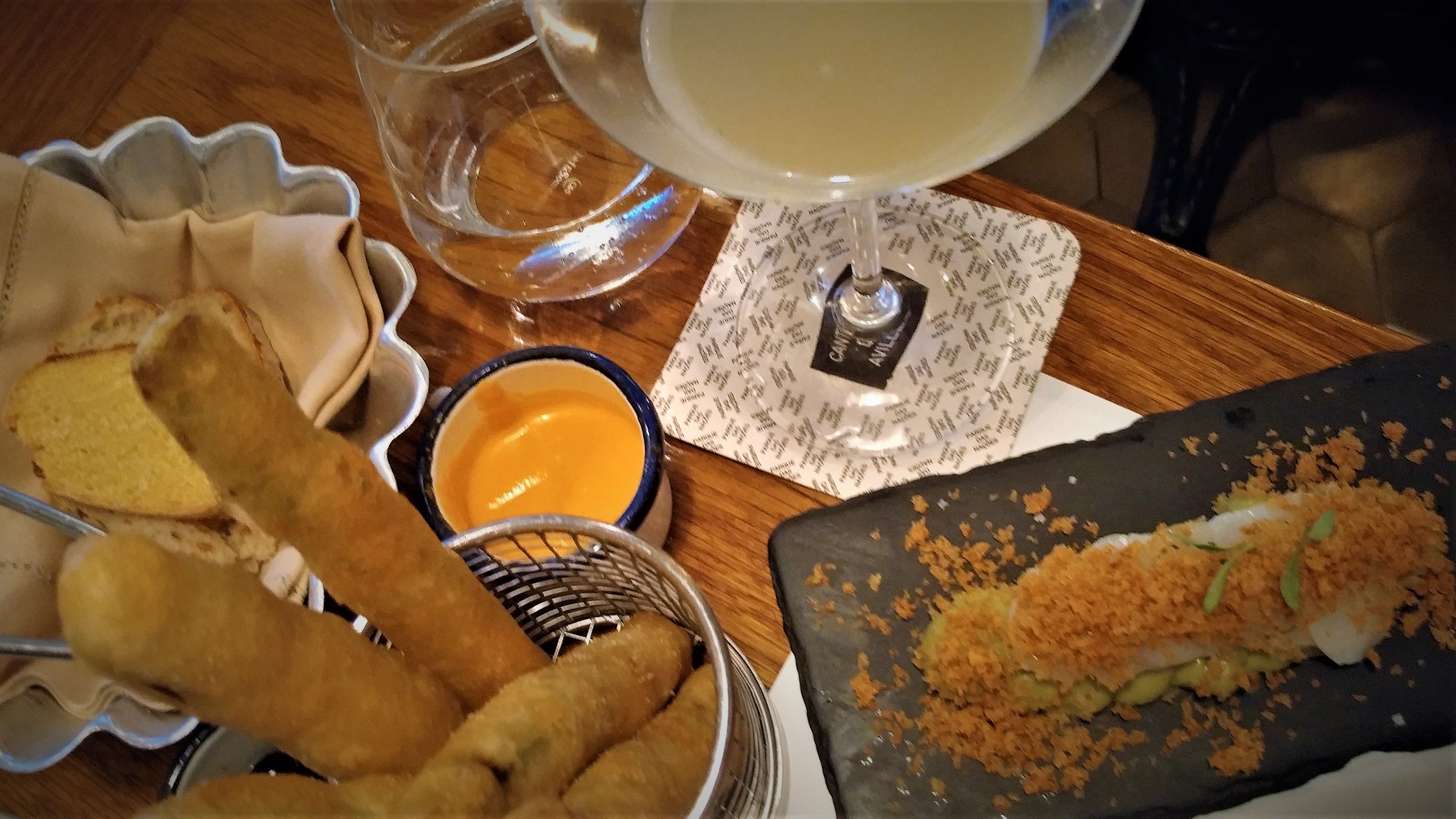 The décor itself is very friendly. The wooded walls ornamented with traditional plates sets the tone, yet still gives a modern touch and contrasting brigh red bistro-styled benches announced the easy-going approach. We started by trying their specialty cocktails that were impressively complex and refreshing. The barman seems quiet and modest, but he deserves some praise. They also have a lovely selection of local wines including some of the best producers such as Anselmo Mendes.
We then decided to stick to the best-sellers in the menu, to get the true Cantinho de Avillez experience. Extremely delicate and tasty marinated scallops with avocado cream and bread crumbs as well as amazing deep fried green beans with tartar sauce were our entrées. I must say that, for the cheapest item on the menu, the fried beans are absolutely a must-try. The crunchy, soft texture with tasty tartare sauce is a perfect combo.
For the main plate, I tried the veal stew risotto with parmesan shavings. It might not be the most traditional dish of the menu, but it was generous in portions and in deliciousness. We also tried the giant red shrimps from Algarve. I've never seen any shrimp that size, not even close. They are enormous. They look sharp with their huge heads. It's way less copious with the shell off than the risotto, but I'm still glad we tried it.
To finish, you need, I mean you most definitely need to try the hazelnut dessert. I was astonished during my whole trip at how amazing and unique local hazelnuts are and how nonchalant and disinterested people are about them. This is the stuff and this dessert put them in the forefront as a hazelnut icecream and hazelnut foam. I'll dream about it.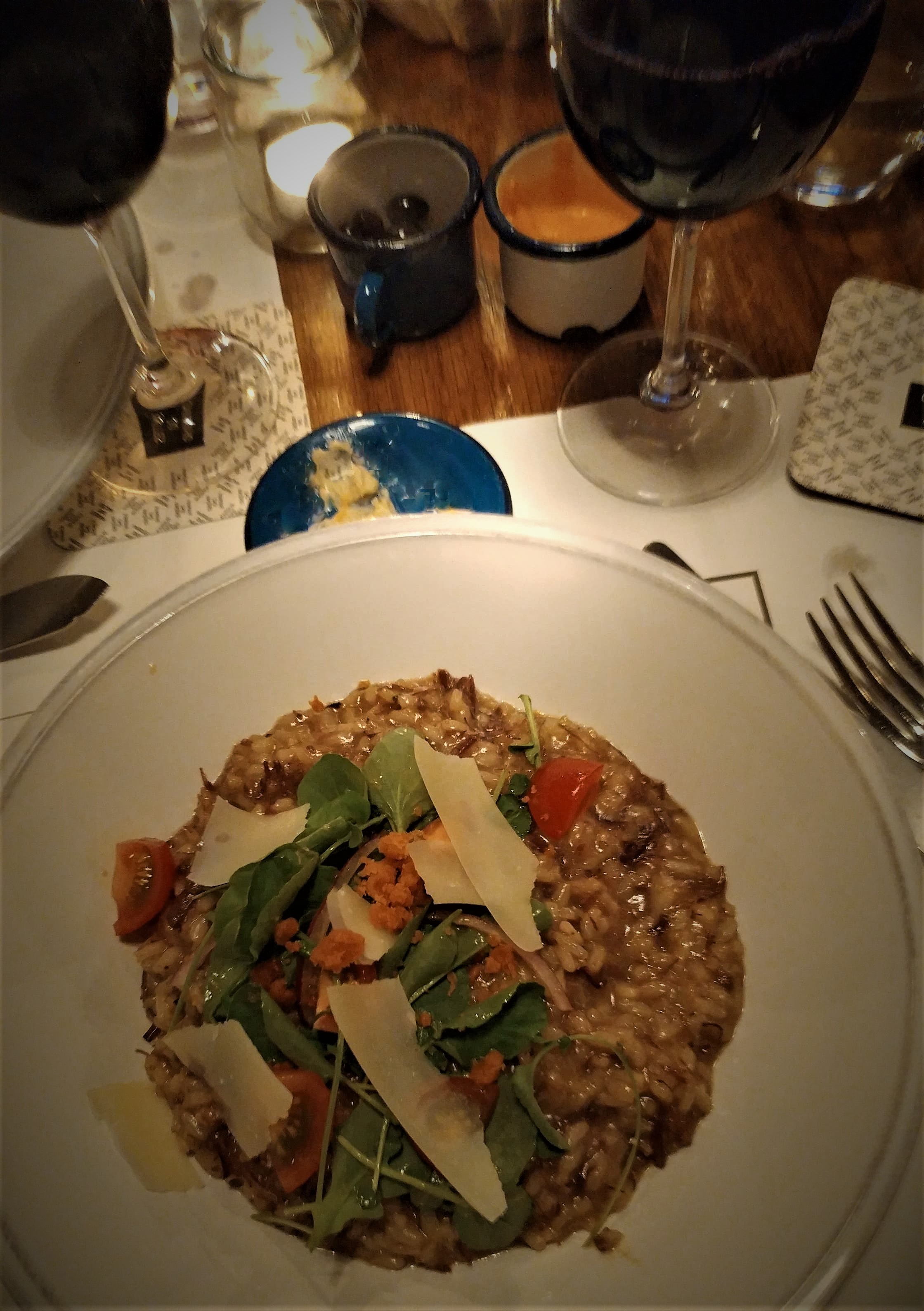 Cantinho do Avillez
Avec une telle proximité avec l'Atlantique, ses nombreux affluents et la vallée infinie, pas étonnant que la culture culinaire unique du Portugal soit si riche en fruits de mer, en poissons délicats et en délicieuses spécialités. Cependant, avec une telle diversité de produits frais, il peut être difficile de trouver les bonnes choses à essayer ou le bon endroit pour découvrir ce que ces terres ont à offrir. Ils disent qu'il y a mille façons de goûter le traditionnel Bacalhau (Morue) mais ce serait une erreur de s'en tenir à cela seulement.
Le chef étoilé José Avillez a compris la richesse et le potentiel de la cuisine portugaise qui est son principal objectif, et a réussi à le pousser plus loin. Il contribue grandement à faire du Portugal une destination gastronomique de premier plan. Il possède maintenant un tableau de restaurant acclamé à Lisbonne et à Porto. J'ai eu l'occasion d'essayer l'un d'entre eux, Cantinho do Avillez, à Porto. C'est un concept plus décontracté et confortable, avec un menu qui combine les plats les plus populaires et les plus traditionnels du chef prestigieux.
Le décor lui-même est très amical. Les murs boisés ornés de plaques traditionnelles donnent le ton, tout en donnant une touche moderne et des bancs de style bistro rouge contrastant annoncent une approche décontractée. Nous avons commencé par essayer leurs cocktails de spécialité qui étaient impressionnants, complexes et rafraîchissants. Le barman semble calme et modeste, mais il mérite d'être vanté . Ils ont aussi une belle sélection de vins locaux, y compris certains des meilleurs producteurs tels qu' Anselmo Mendes.
Nous avons alors décidé de se limiter aux meilleurs vendeurs du menu, pour obtenir la véritable expérience Cantinho de Avillez. Des pétoncles marinés extrêmement délicates et savoureuse avec de la crème d'avocat et de la chapelure, ainsi que de délicieux haricots verts frits avec de la sauce tartare étaient nos entrées. Je dois dire que, pour l'article le moins cher sur le menu, les haricots frits sont absolument un must. La texture croustillante et douce avec une délicieuse sauce tartare est une combinaison parfaite.
Pour le plat principal, j'ai essayé le risotto de ragoût de veau avec des copeaux de parmesan. Ce n'est peut-être pas le plat le plus traditionnel du menu, mais il était généreux en portions et en délice. Nous avons également essayé les crevettes géantes rouges de l'Algarve. Je n'ai jamais vu de crevettes de cette taille, même pas près. Ils sont énormes. Elles ont du style avec leurs énormes têtes. C'est beaucoup moins copieux avec la coquille que le risotto, mais je suis contente d'avoir essayé.
Pour finir, vous avez besoin, je veux dire que vous avez absolument besoin d'essayer le dessert aux noisettes. Pendant tout mon voyage, j'ai été étonnée de voir à quel point les noisettes et noix locales sont incroyables et uniques et à quel point les gens sont nonchalants et désintéressés à leur sujet. C'est un truc de fou et ce dessert les met au premier plan comme une glace à la noisette et mousse de noisette. Je vais en rêver.