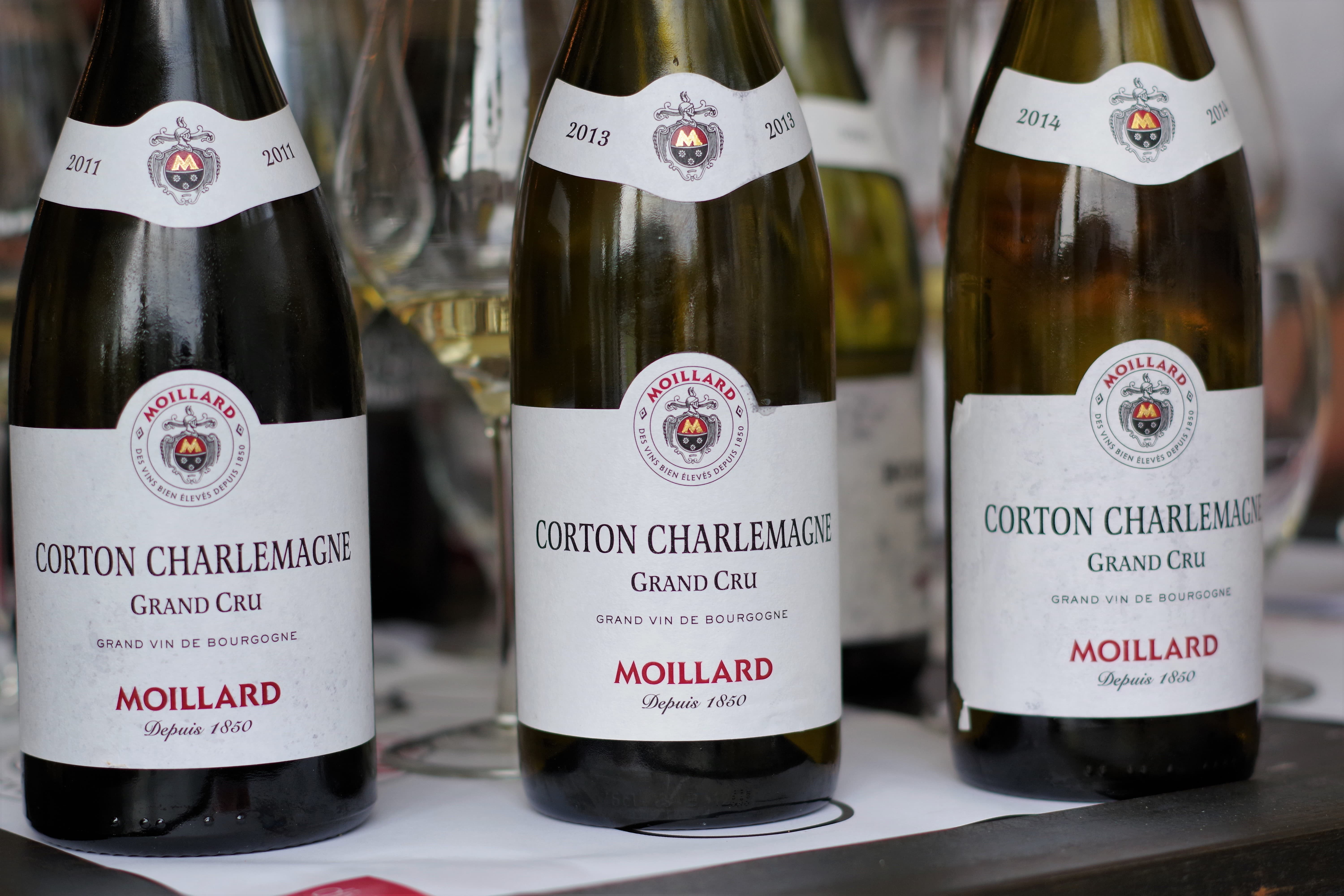 Domaine Moillard also known under the names of Thomas-Moillard and Moillard-Grivot spreads over Côte de Nuits and Côte de Beaune, from Vougeot to Volnay over nearly twenty hectares. Half of the wines produced on the estate are on Premier Cru level but also Bâtard-Montrachet, Bonnes Mares, chambertin –clos de bèze, corton-charlemagne, clos de vougeot, clos de la roche, clos Saint-Denis and Musigny Grand crus. More importantly, Moillard express all of these wines with its very own style, with great elegance and finesse. The terroir and location does matter a great deal but it's nothing without the knowledge, know-how and winemaking choices supporting it.
Funny story, while looking through their stocks in their vaulted cellars, they discovered that with time, some bottles had been pushed and buried into the ground. After some digging and research, 260 bottles of different wines and vintages were dug out. They were all eroded with a unique sparkling appearance and have been sold at auction as collection and design pieces.
Mazis-Chambertin is the northernmost grand cru vineyard on the Côte de Nuits in Burgundy. It covers 8 hectares of land on the upper slopes of Gevrey-Chambertin's Grand cru. The vineyard is divided into upper (Mazis-Haut) and lower (Mazis-Bas) sections. There used to be an ancient hamlet which disappeared around the Middle Ages: in ancient french, 'Mazis' meant 'country houses'. It's an impressive example of ageing potential. The 1946, is more than 70 years old with still a refreshing, although very fast dropping, acidity. In 1946, the vinification method were quite different with lots of extraction and wines that were way harsher than the subtlety and refinement we're seeking nowadays.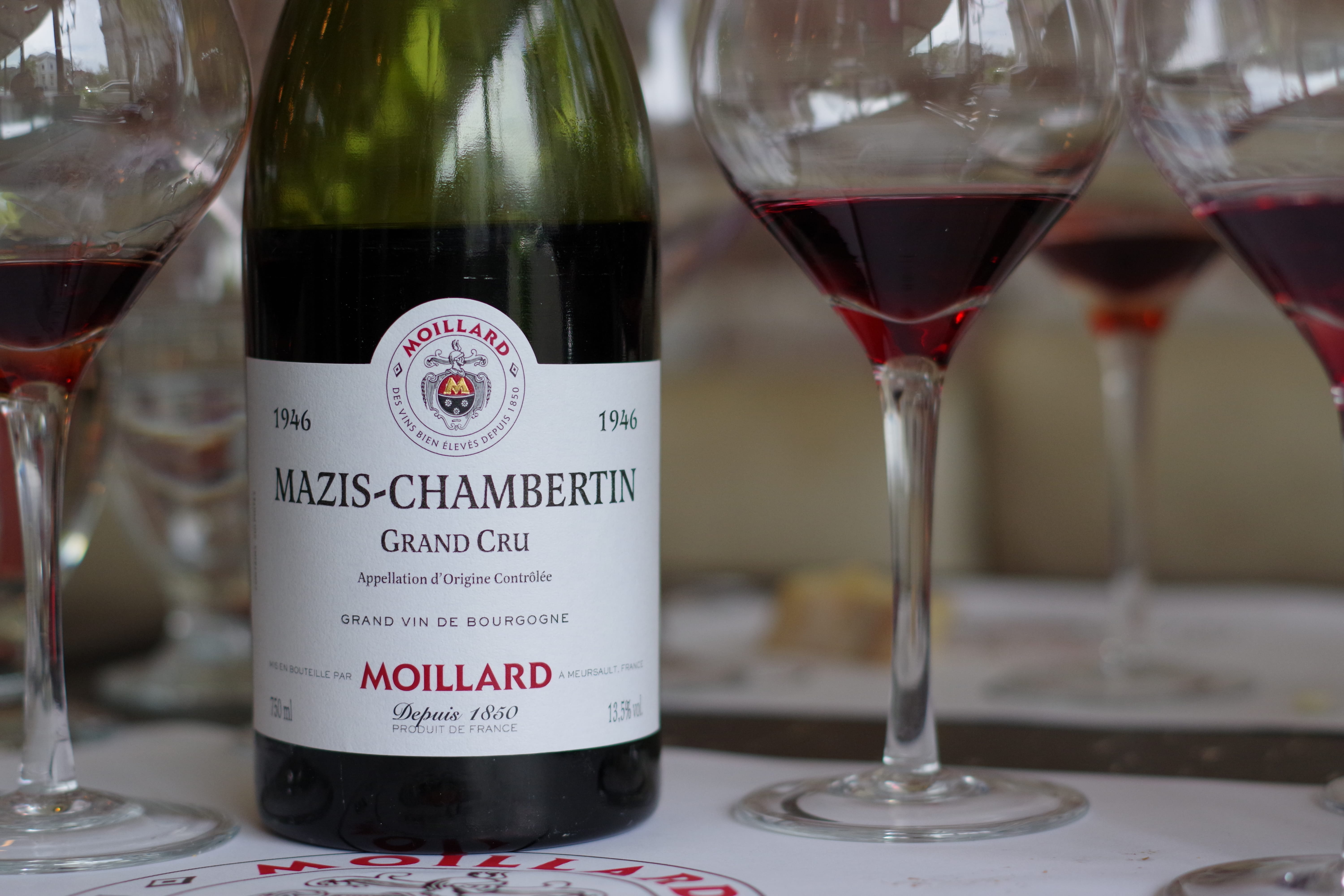 Le Domaine Moillard également connu sous les noms de Thomas-Moillard et Moillard-Grivot s'étend sur la Côte de Nuits et la Côte de Beaune, de Vougeot à Volnay sur près de vingt hectares. La moitié des vins produits sur le domaine sont au niveau Premier Cru mais ils produisent aussi des Bâtard-Montrachet, Bonnes Mares, chambertin-clos de bèze, corton-charlemagne, clos de vougeot, clos de la roche, clos Saint-Denis et Musigny Grand Crus. Plus important encore, Moillard exprime tous ces vins avec son propre style, avec beaucoup d'élégance et de finesse. Le terroir et l'emplacement comptent beaucoup, mais ce n'est rien sans les connaissances, le savoir-faire et les choix de vinification qui le soutiennent. Leur philosophie se base sur cet aspect.
Histoire drôle, en observant leurs stocks dans leurs caves voûtées, ils ont découvert qu'avec le temps, certaines bouteilles avaient été poussées et enterrées dans le sol. Après quelques recherches et fouilles, 260 bouteilles de vins et de millésimes différents ont été retrouvées. Elles étaient toutes érodées par la terre avec une apparence brillante, unique et ont été vendus aux enchères comme pièces de collection et de design.
Mazis-Chambertin est le vignoble de grand cru le plus septentrional de la Côte de Nuits en Bourgogne. Il couvre 8 hectares de terrain sur les hauteurs du Grand cru de Gevrey-Chambertin. Le vignoble est divisé en sections supérieures (Mazis-Haut) et inférieures (Mazis-Bas). Il y avait un ancien hameau qui a disparu au Moyen Âge: dans l'ancien français, «Mazis» signifiait «maisons de campagne». C'est un exemple impressionnant de potentiel de vieillissement. Le 1946, a plus de 70 ans avec une acidité rafraîchissante, bien que très rapide. En 1946, la méthode de vinification était assez différente avec beaucoup d'extraction et des vins beaucoup plus durs que la subtilité et le raffinement que nous recherchons de nos jours. C'est ce qui a permis à ce vin de soutenir le temps qui passe.