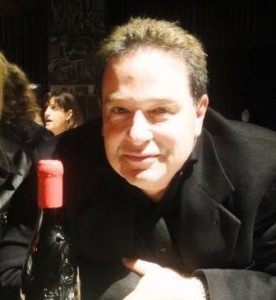 Jeff Leve is the Founder, Contributor and Editor of "The Wine Cellar Insider". If you don't know already know the website, you are seriously missing out. It offers close to 13,000 exclusive, unique, detailed, searchable, wine tasting notes and wine reviews along with amazing winery profile and a focus on Bordeaux wines. The information is so extended, precise, updated and convenient that I often use the website as a resourceful fact check provider. That's how I trust jeff Leve!
Besides Bordeaux, Wine cellar insider also writes about other region such as the Rhone valley, Chateauneuf-du-pape and California. Even if he started out as a self-taught winelover, he is certainly more than that today. He's been recognised and inducted in multiple important societies such as The Jurade of Saint-Émilion, les Hospitaliers de Pomerol, la Commanderie de Bordeaux, La Confrérie des Gentilshommes de Fronsac, the Brotherhood of Chateauneuf du Pape, La Confrerie Bachique de Chateauneuf du Pape et Les Echansonnerie Des Papes.
While i'm writing this article, Jeff Leve is currently in Bordeaux for the En Primeur tastings of the 2016 vintage that he introduced as "a year of stunning quality and there are numerous properties that have made the best wine in the history of their estate!"
You can follow his dreamy Bordeaux visits on his facebook page   @jeff.leve.thewinecellarinsider or on www.thewinecellarinsider.com
Jeff Leve est le Fondateur, Contributeur et rédacteur en chef de "The Wine Cellar Insider". Si vous ne connaissez pas déjà le site, vous êtes sérieusement perdant. Il offre près de 13 000 notes exclusives, uniques, détaillées, des dégustations de vins, ainsi que des profils de vignoble incroyables et un accent sur les vins de Bordeaux. L'information est tellement étendue, précise, mise à jour et pratique que j'utilise souvent le site Web comme un vérificateur de faits ingénieux. Je fais confiance à ce point à Jeff Leve!
Outre Bordeaux, Wine cellar Insider écrit également sur d'autres régions comme la vallée du Rhône, Chateauneuf-du-Pape et la Californie.Bien qu'il est commencé son apprentissage de façon autodidacte, il est certainement plus que cela aujourd'hui. Il a été reconnu et intronisé dans de multiples sociétés importantes telles que la Jurade de Saint-Émilion, les Hospitaliers de Pomerol, la Commanderie de Bordeaux, La Confrérie des Gentilshommes de Fronsac, la Fraternité de Chateauneuf du Pape, La Confrérie Bachique de Chateauneuf du Pape et Les Echansonnerie Des Papes.
Alors que j'écris cet article, Jeff Leve est actuellement à Bordeaux pour les dégustations En Primeur du millésime 2016 qu'il a présenté comme «une année de qualité étonnante et de nombreuses propriétés ont présenté le meilleur vin dans l'histoire de leur domaine! "
Vous pouvez suivre ses visites de rêves à Bordeaux sur sa page facebook @ jeff.leve.thewinecellarinsider ou sur www.thewinecellarinsider.com
What is your favorite wine event?
En Primeur tastings in Bordeaux
What is the most remarkable bottle you have had the chance to taste?
A 1870 Chateau Margaux in large format with the family that originally purchased the bottle.
Which wine tourism destination is the most interesting in your opinion?
It is best to visit the region that means the most to you. It's the people and the wine that matters, not the place ….
Quel est votre événement viticole préféré?
Les dégustations en Primeur à Bordeaux
Quelle est la bouteille la plus remarquable que vous avez eu la chance de goûter?
Un  Château Margaux 1870 en grand format avec la famille qui a acheté la bouteille à l'origine.
Quelle destination oenotouristique est la plus intéressante à votre avis?
L'idéal est de visiter la région qui signifie le plus pour vous. C'est les gens le vin qui compte, pas l'endroit …
Crédit photo: Jeff Leve- The wine cellar insider