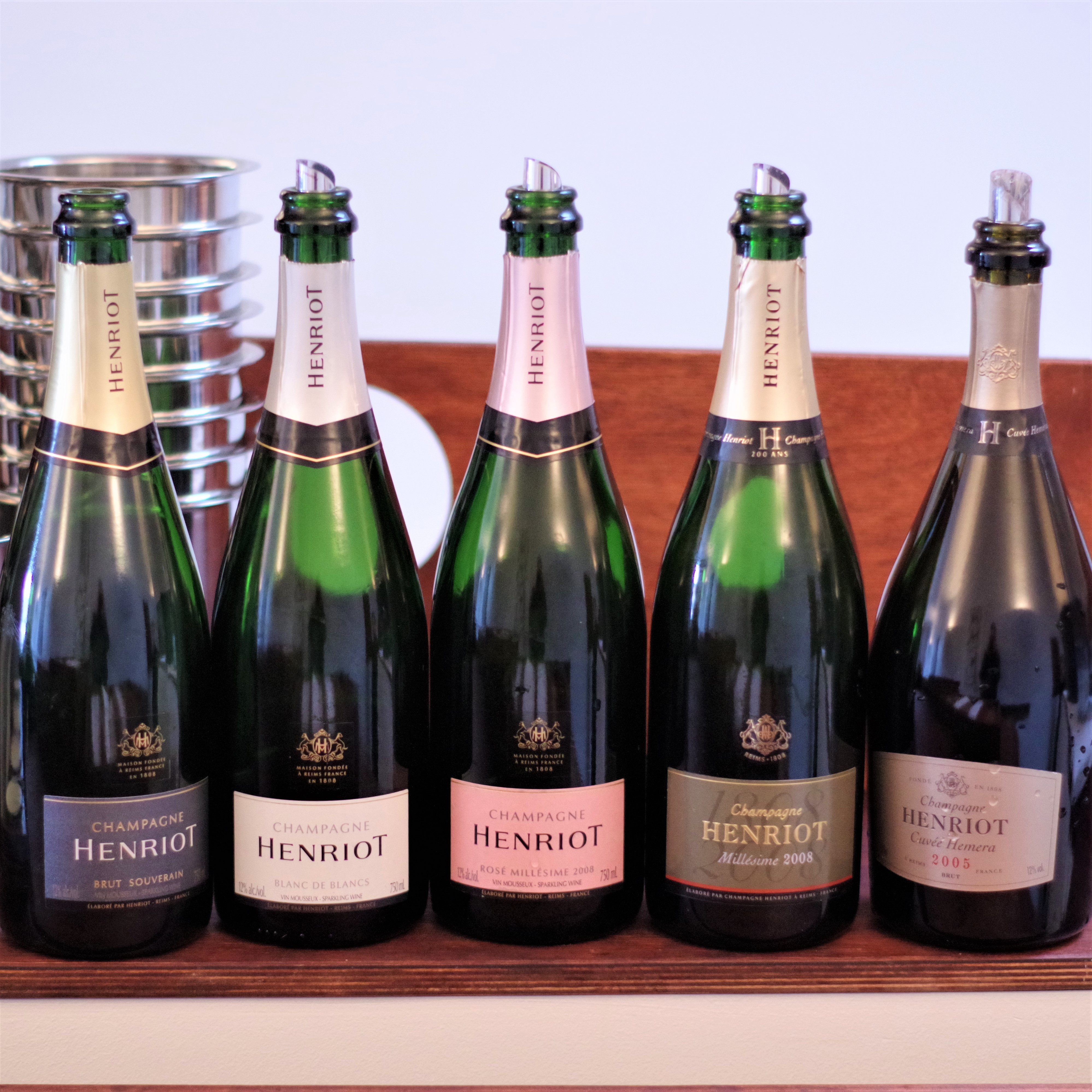 Champagne Henriot is part of the big reputed brand names in Champagne. However, and especially in comparison, we could say it gets far less attention than they deserve. For over 210 years, the Henriot family has maintained a standard and a consistency with a focus on terroir-driven and excellent expression of Chardonnay as well as their innovative reserve concept, the Cuve 38.
Cuve 38 is basically the ADN of the house. It's a gigantic tank of 467 hectoliters with a mix of reserve wines of the 18 last vintages. Each year, 15% is drawn off and used mostly in the Non Vintage Brut and since 2008, in the thousand magnum produced and labelled under the Cuve 38 name. The blend is made exclusively from four of the finest Chardonnay Grand Crus: Chouilly, Avize, Oger and Mesnil-sur-Oger. It's a perpetual reserve that supports consistancy of the style and a continuity.
Champagne Henriot has has a lot of changes recently. With a focus on the houses style and precising their image and brand, the range of wines has changed. The cuvée des enchanteleurs is not produced anymore. The last vintage produced was the millenium, 2000. This cuvée was dropped partially because of a lack of Grand cru supply. It was either affecting the Brut Souverain, which represents the house style and 90% of the total production, or ending the enchanteleurs legacy. For Laurent Fresnet, cellar master since 2005, the choice was very easy. Cuvée des enchanteleurs has always been apart from the rest of the range, kind of a standalone with a bolder style. The dissociation was only making sense. Replacing it is the new Henriot Cuvée Hemera vintage Champagne. Named after the goddess of light, this cuvée will be made only in certain vintages. The first ever released, 2005 is really the first step of this 'all grand crus' blend.
Brut Souverain
This NV champagne is of a superb balance, with a fine plastered texture and a rounded touch. Be careful as it is very sensible to the service temperature and a couple of degree could make it lose its fresh linear thrill. What's even better is that it was previously only available in private importation, but it's been available for a week now in SAQ and the price has dropped by about 20%. 57,50$ for a great a thrilling Champagne is a deal.
Blancs de Blanc
Beautiful shining color with characterful chardonnay. The Blanc de Blancs has made a turn in 2010: the ageing time has been reduced and the reserve wines has been increased in order to keep more fruit character and less buttery, weighty style. It still has great autolytic aromas of yeast and crackers but with an intense burst of freshness, nectarines, white peach flesh and a pinch of salinity.
Rosé Vintage 2008
A rosé as delicate as it can be. For this wine and the NV Rosé, all blends are made with opaque glasses so the color doesn't affect the decisions. It has lovely aromas of dried flowers and bitter orange, all with such delicacy. The red wines used for this production is quite unique. It comes mostly from Verzenay, Ay and Mailly-Champagne with a lean, light and fruity approach.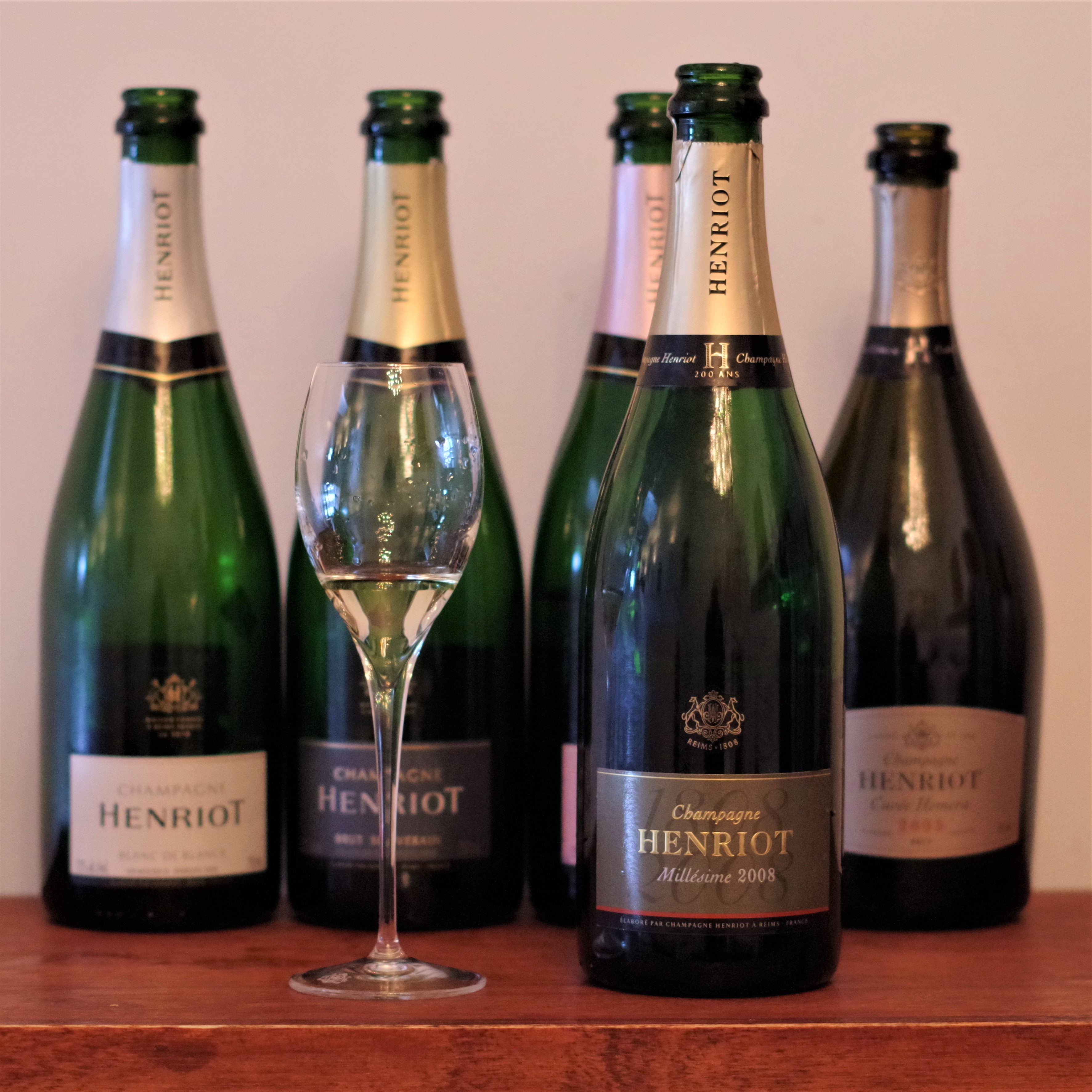 Vintage 2008
A dense Champagne from a parity of Chardonnay and Pinot noir. Truly, 2008 was a vintage of power. This spent 9 years on lees and it still seems it was disgorge too early. Even with this strength, texture and richness, it still fills the mouth with balance. The perfect acidity dances within the length, burring to let the tea leaves, citrus fruits and acacia honey flavors through, and then coming back strong for added length.
Hemera 2005
Laurent Fresnet compared the shift between les enchanteleurs and Hemera to a shift between a weighty, dim autumn, to a spring rebirth. The wine has definitely a creaminess yet with a lifted, airiness. I would compare it to the effect whipped cream has to custard in a Crème Légère. It has a remarkable liveliness and layers of complexity including minerality, and the tastiest of Salted caramel.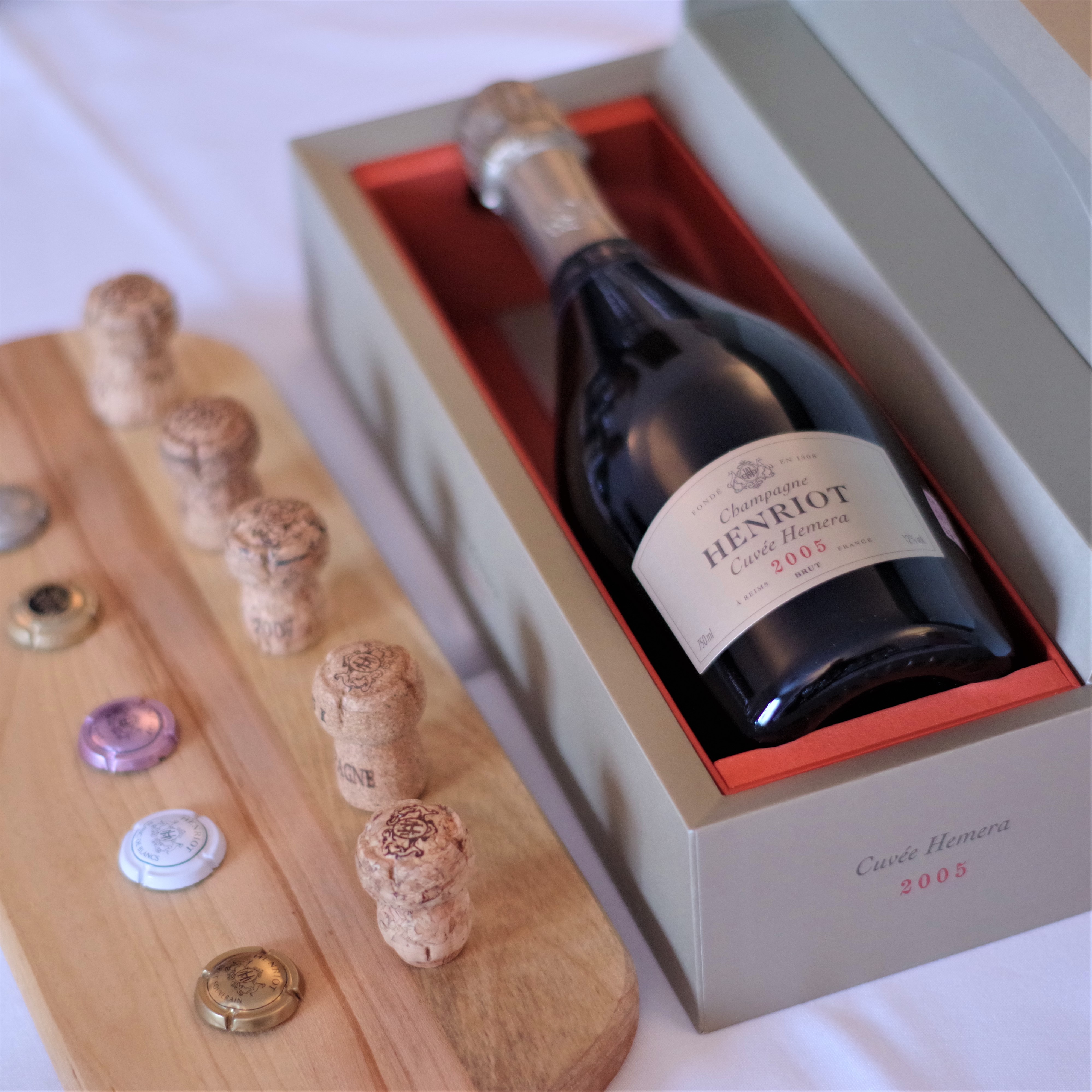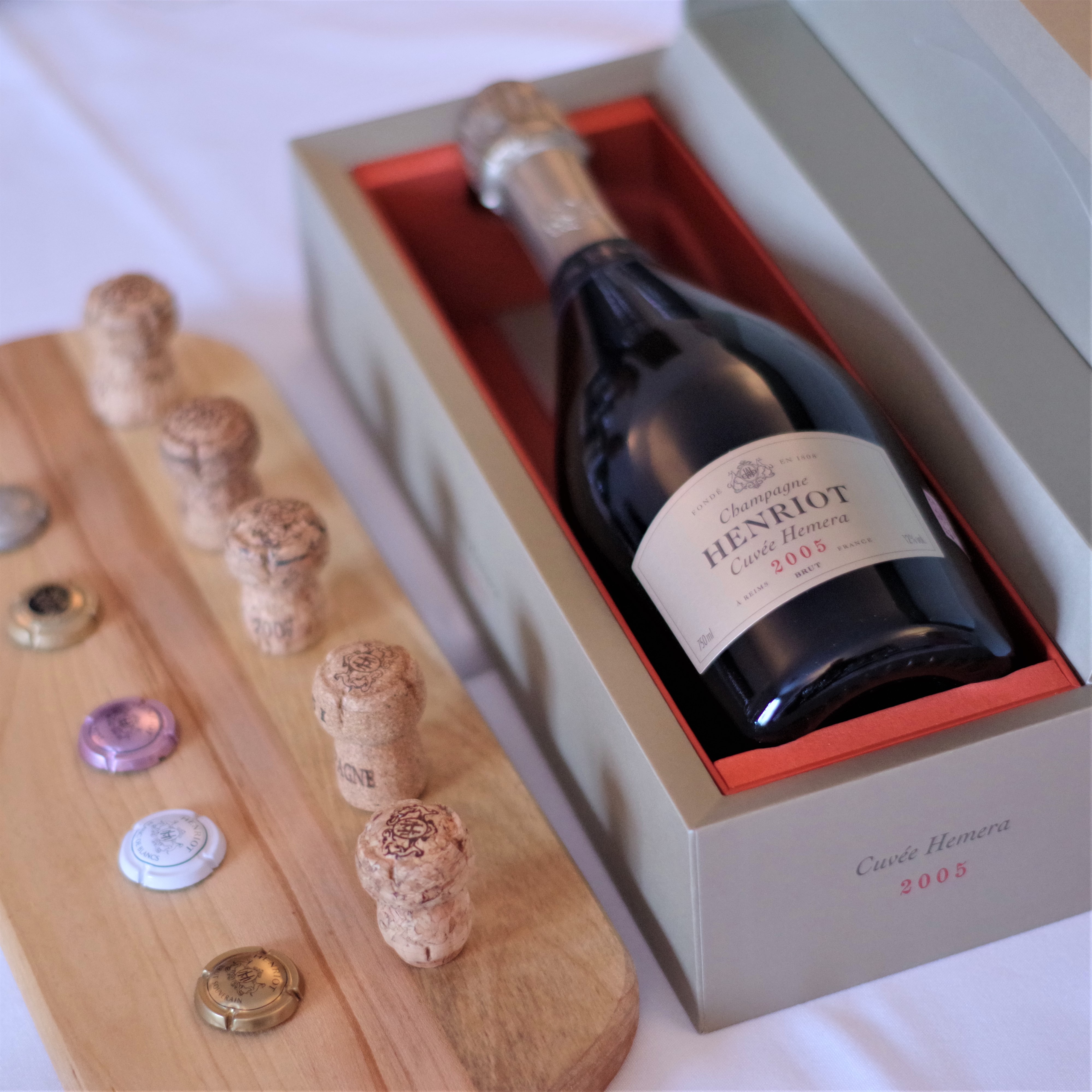 Champagne Henriot
Champagne Henriot fait partie des grandes marques renommées en Champagne. Cependant, et surtout en comparaison, nous pourrions dire qu'elle attire beaucoup moins l'attention qu'elle ne le mérite. Depuis plus de 210 ans, la famille Henriot a maintenu un standard et une cohérence en mettant l'accent sur une excellente expression du Chardonnay axée sur le terroir, ainsi que sur leur concept novateur de vins de réserve, la Cuve 38.
La cuve 38 est fondamentalement l'ADN de la maison. C'est un gigantesque réservoir de 467 hectolitres avec un mélange de vins de réserve des 18 derniers millésimes. Chaque année, 15% sont prélevés et utilisés principalement dans le brut non vintage et, depuis 2008, dans le millier de magnums produits et étiquetés sous le nom de Cuve 38. Cet assemblage est composé exclusivement de quatre des plus grands grands crus de Chardonnay: Chouilly, Avize, Oger et Mesnil-sur-Oger. C'est une réserve perpétuelle qui favorise la consistance du style et une continuité.
Champagne Henriot a eu beaucoup de changements récemment. En mettant l'accent sur le style de la maison et en précisant leur image et leur marque, la gamme de vins a changé. La cuvée des enchanteleurs n'est plus produite. Le dernier millésime produit était le Millénium, le millésime 2000. Cette cuvée a été abandonnée en partie à cause d'un manque d'approvisionnement en Grand Cru. Il y avait un choix, soit affecter le brut Souverain, qui représente le style de la maison et 90% de la production totale, soit la fin de l'héritage des enchanteleurs. Pour Laurent Fresnet, maître de chai depuis 2005, le choix était très facile. La Cuvée des enchanteleurs a toujours été distincte du reste de la gamme, unpeu à l'écart avec un style plus audacieux. La dissociation était logique. Il est remplacé par le nouveau Champagne millésimé Henriot Cuvée Hemera. Nommée après la déesse de la lumière, cette cuvée ne sera faite que dans certains millésimes. La première édition, 2005 est vraiment la première étape de cet assemblage "tous grands crus".
Brut Souverain
Ce champagne NV présente un superbe équilibre, avec une texture plâtrée fine et une touche arrondie. Soyez prudent car il est très sensible à la température de service et quelques degrés pourraient lui faire perdre son frisson linéaire. Ce qui est encore mieux, c'est qu'il n'était auparavant disponible qu'en importation privée, mais il est disponible depuis une semaine à la SAQ et son prix a chuté d'environ 20%. 57,50 $ pour un très bon Champagne est une affaire.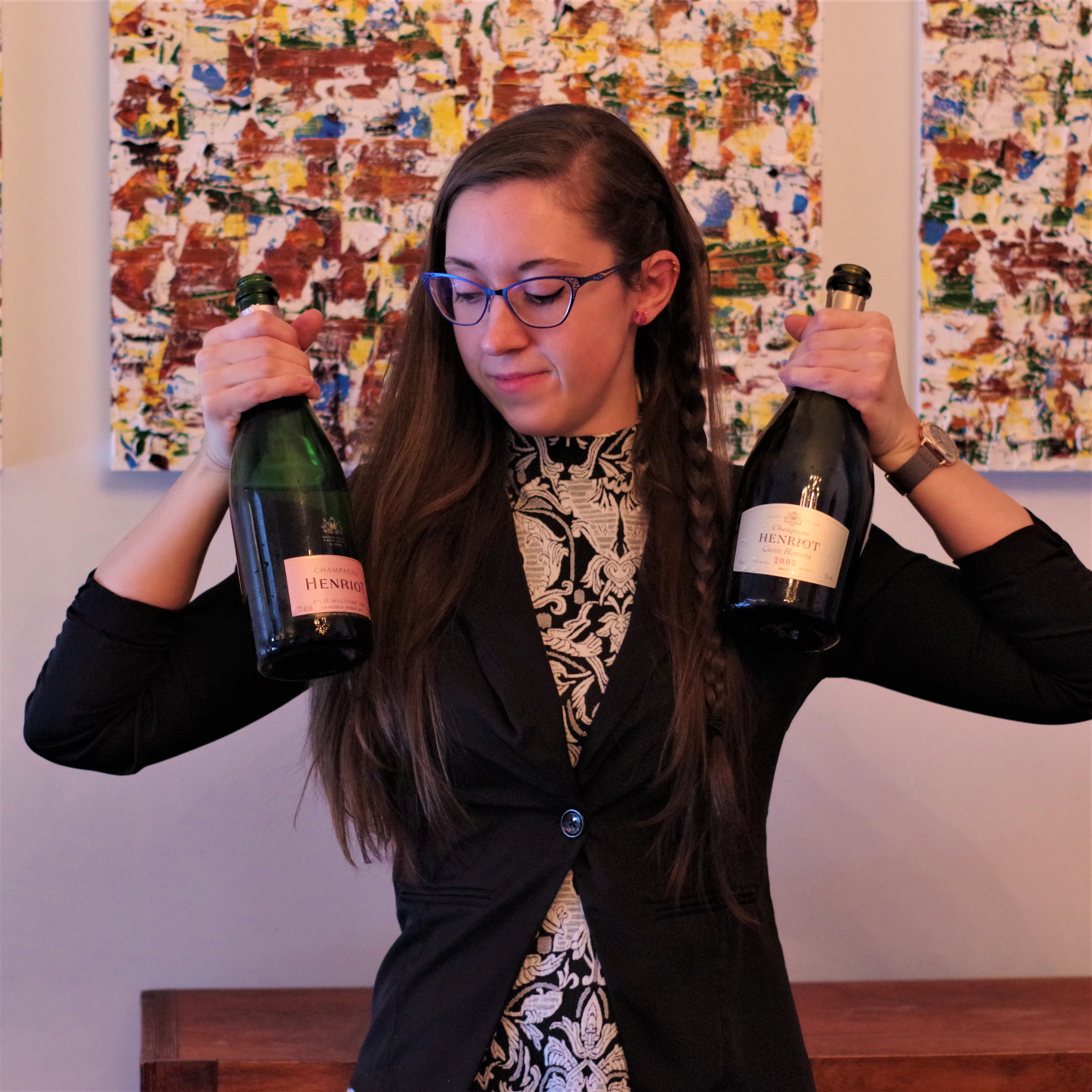 Blancs de Blanc
Belle couleur brillante avec du chardonnay de caractère. Les Blancs de Blancs ont connu un tournant en 2010: le temps de vieillissement a été réduit et les vins de réserve ont été augmentés afin de conserver plus de caractère fruité et moins de beurre et de style pesant. Il a encore de grands arômes autolytiques de levure et de craquelins, mais avec un éclat intense de fraîcheur, des nectarines, une chair de pêche blanche et une pincée de salinité.
Rosé Vintage 2008
Un rosé aussi fin que possible. Pour ce vin et le NV Rosé, tous les mélanges sont réalisés avec des verres opaques afin que la couleur n'affecte pas les décisions. Il a de beaux arômes de fleurs séchées et d'orange amère, le tout avec une telle délicatesse. Les vins rouges utilisés pour cette production sont assez uniques. Il provient principalement de Verzenay, Ay et Mailly-Champagne avec une approche maigre, légère et fruitée.
Vintage 2008
Champagne dense issu d'une parité de Chardonnay et Pinot Noir. Vraiment, 2008 était un millésime de pouvoir. Il a passé 9 ans sur lattes et le dégorgement semble encore avoir été fait trop tôt. Même avec cette force, cette texture et cette richesse, il remplit toujours la bouche d'équilibre. Une acidité parfaite danse sur la longueur, laissant subsister des saveurs de feuilles de thé, d'agrumes et de miel d'acacia, puis revenant en force pour une longueur accrue.
Hemera 2005
Laurent Fresnet a comparé le passage entre les enchanteleurs et Hemera à un passage entre un automne pesant et sombre et une renaissance printanière. Le vin a définitivement un onctuosité mais avec une aération, une légèreté. Je comparerais cela à l'effet de la crème fouetté sur la costarde dans une crème légère. Il a une vivacité remarquable et des couches de complexité comprenant de la minéralité et le plus savoureux des caramels salés.