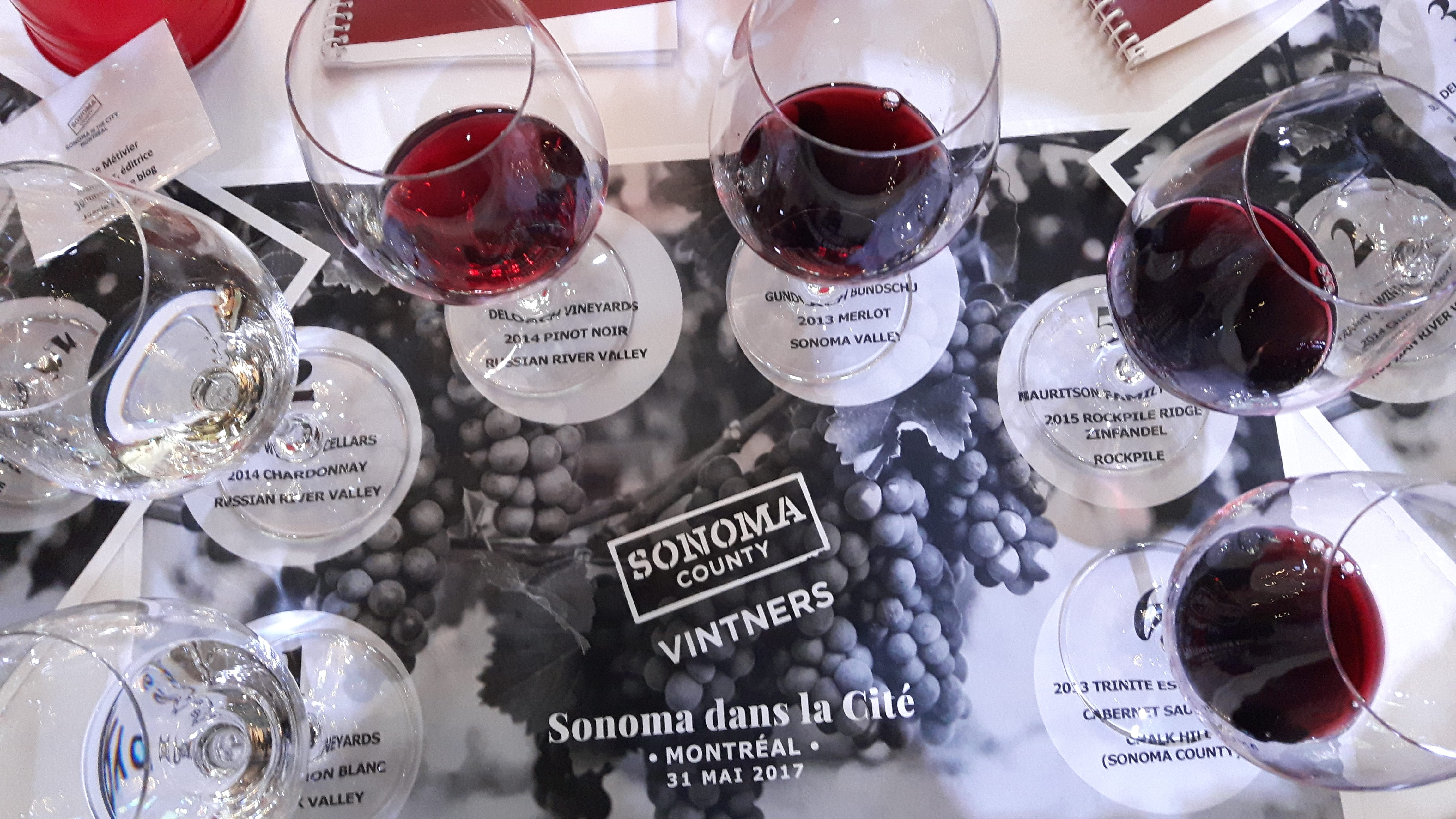 The beautiful Auberge Saint-Gabriel welcomed the Sonoma County Vintners for a great seminar on the region held by the passionate Isabel Bordeleau and a diverse tasting. Sonoma is a well-known region in California but it often get confused as similar to napa, which is not the case. It is extremely diverse in climate, in soils, in grape varieties and in style. There are 17 distinct sub-regions with distinctive characteristics from the biggest Russian River Valley of 5624 hectares where Chardonnay and Pinot Noir thrives to the tiny Rockpile famous for zinfandel.
Diversity is really the key word when discussing Sonoma and it is what the 250 members of the Sonoma County Vintners are promoting.
La jolie Auberge Saint-Gabriel a accueilli le Sonoma county Vintners pour un superbe séminaire sur la région donné par la passionnée Isabel Bordeleau et une dégustation diversifiée. Sonoma est une région bien connue en Californie, mais elle se confond souvent comme similaire à Napa, ce qui n'est pas le cas. Elle est extrêmement diversifiée dans le climat, dans les sols, dans les cépages et dans le style. Il existe 17 sous-régions avec des caractéristiques distinctives de la plus grande Russian River valley de 5624 hectares où le Chardonnay et le Pinot Noir prospèrent jusqu'au minuscule Rockpile célèbre pour Zinfandel.
La diversité est vraiment le mot clé lors de la discussion de Sonoma et c'est ce que les 250 membres du Sonoma County Vintners font la promotion.
MY TOP PICKS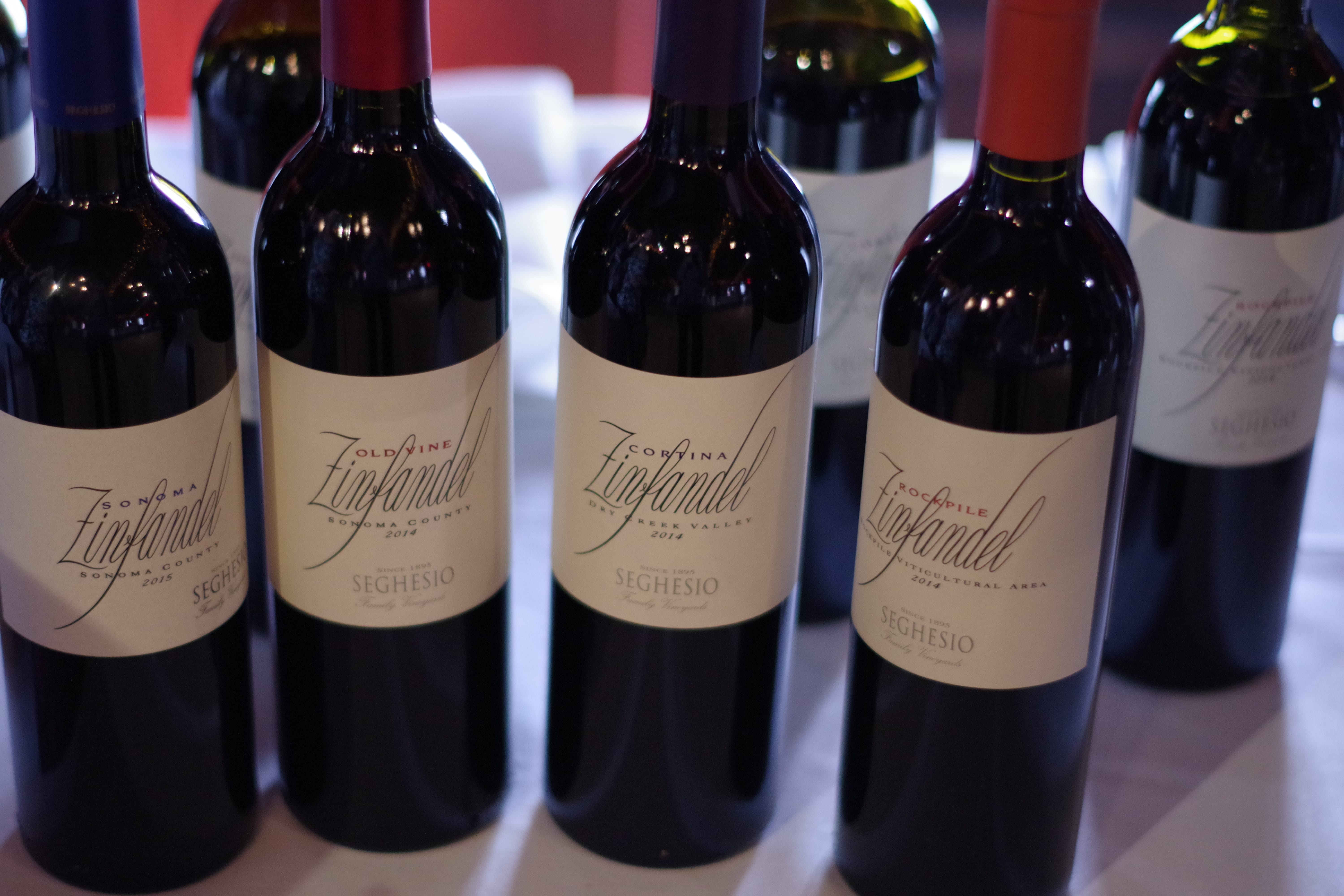 Seghesio
I'll be honest, I'm not usually a big fan of Zinfandel but I was pleasantly surprised when I tasted the Seguesio wines. It was distinctly more complex and balanced than any zinfandel I tasted before. 2015 marks Seghesio Family Vineyards' 120th anniversary in Sonoma County. It has survived the prohibition, economic crisis and many more challenges to become part of Sonoma historic journey. Today with over 400 acres of estate vineyards, the family remains true to their oldest plantings as they specialize in Zinfandel and Italian Varietals with acclaimed results at the hands of winemaker, Ted Seghesio.
Je serai honnête, je ne suis généralement pas une grande fan de Zinfandel mais j'ai été agréablement surprise quand j'ai goûté les vins Seguesio. C'était nettement plus complexe et équilibré que n'importe quel zinfandel que j'ai goûté auparavant. 2015 marque le 120e anniversaire de Seghesio Family Vineyards dans le comté de Sonoma. Il a survécu à la prohibition, à la crise économique et à de nombreux autres défis pour faire partie du voyage historique de Sonoma. Aujourd'hui, avec plus de 400 acres de vignobles successifs, la famille reste fidèle à ses plantations les plus anciennes, puisqu'elle se spécialise dans Zinfandel et les variétés italiennes avec des résultats acclamés du vigneron, Ted Seghesio.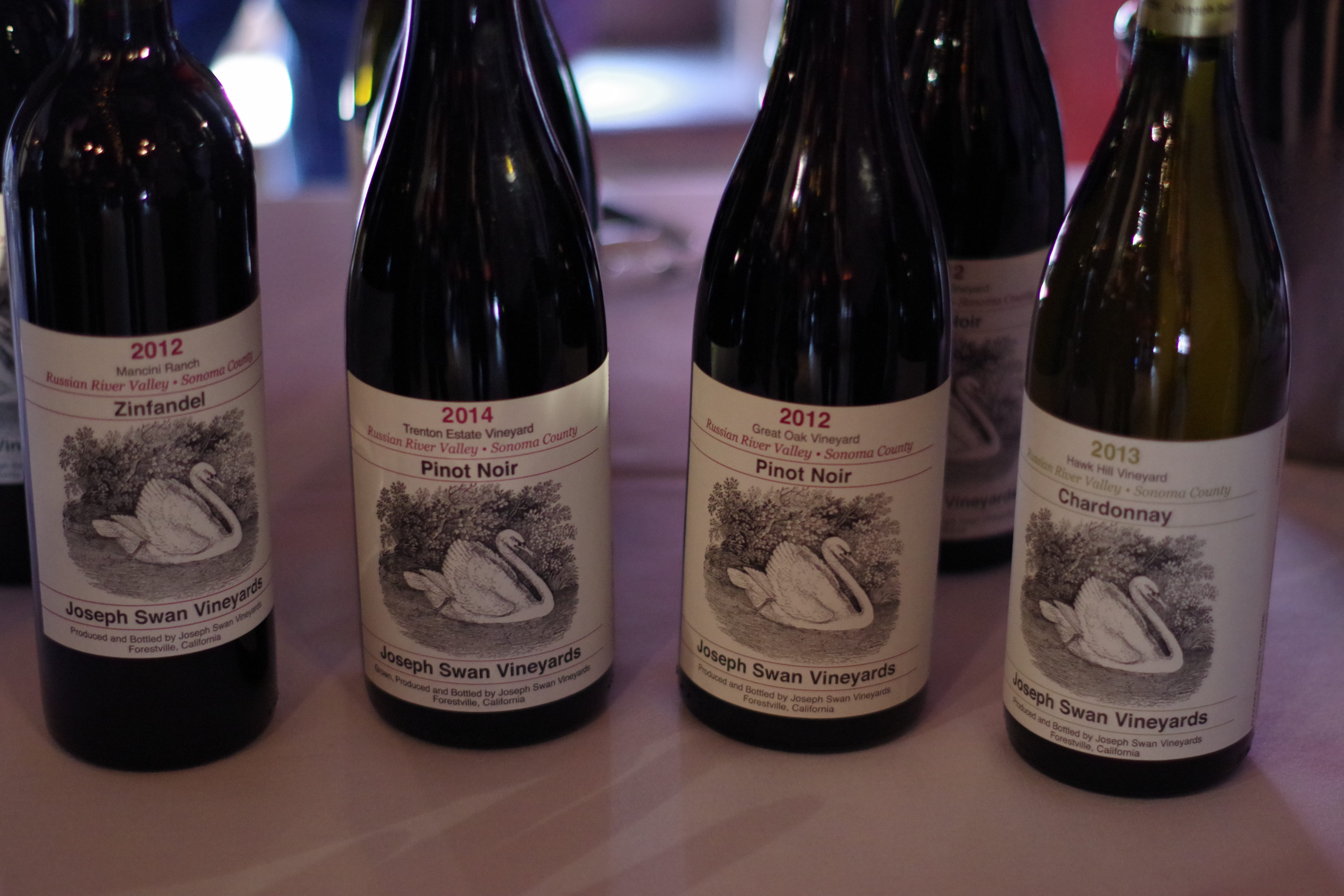 Joseph Swan vineyard
Joseph Swan bought a 13-acre farm in the Russian River Valley in 1967. The winery was officially established in 1969 but since then has remained modest with a focus on producing wine that he simply liked with quite a small production. It started out with old vines zinfandel but it is now known for what is sometimes called the swan clone of pinot noir and chardonnay. The wines are natural and unfiltered but without the strong stubbornness that usually comes with that word. It's natural unless it can't be. Joseph Swan Vineyards' best Pinot Noir is made from the property's oldest vines Trenton Estate named after the small town of Trenton, the actual location of the winery.
Joseph Swan a acheté une ferme de 13 acres à Russian River Valley en 1967. Le vignoble a été officiellement créé en 1969, mais depuis lors elle est demeurée modeste en mettant l'accent sur des vins qui plaisent simplement avec une production assez petite. Il a commencé avec de vieilles vignes de zinfandel mais il est maintenant connu pour ce qu'on appelle parfois le clone Swan de pinot noir et de chardonnay. Les vins sont naturels et non filtrés, mais sans le fort entêtement qui vient habituellement avec ce mot. C'est naturel à moins qu'il ne puisse l'être. Le Pinot Noir de Joseph Swan Vineyards est fabriqué à partir des vignes les plus anciennes de la propriété, Trenton Estate, nommé d'après la petite ville de Trenton, l'emplacement réel de la propriété.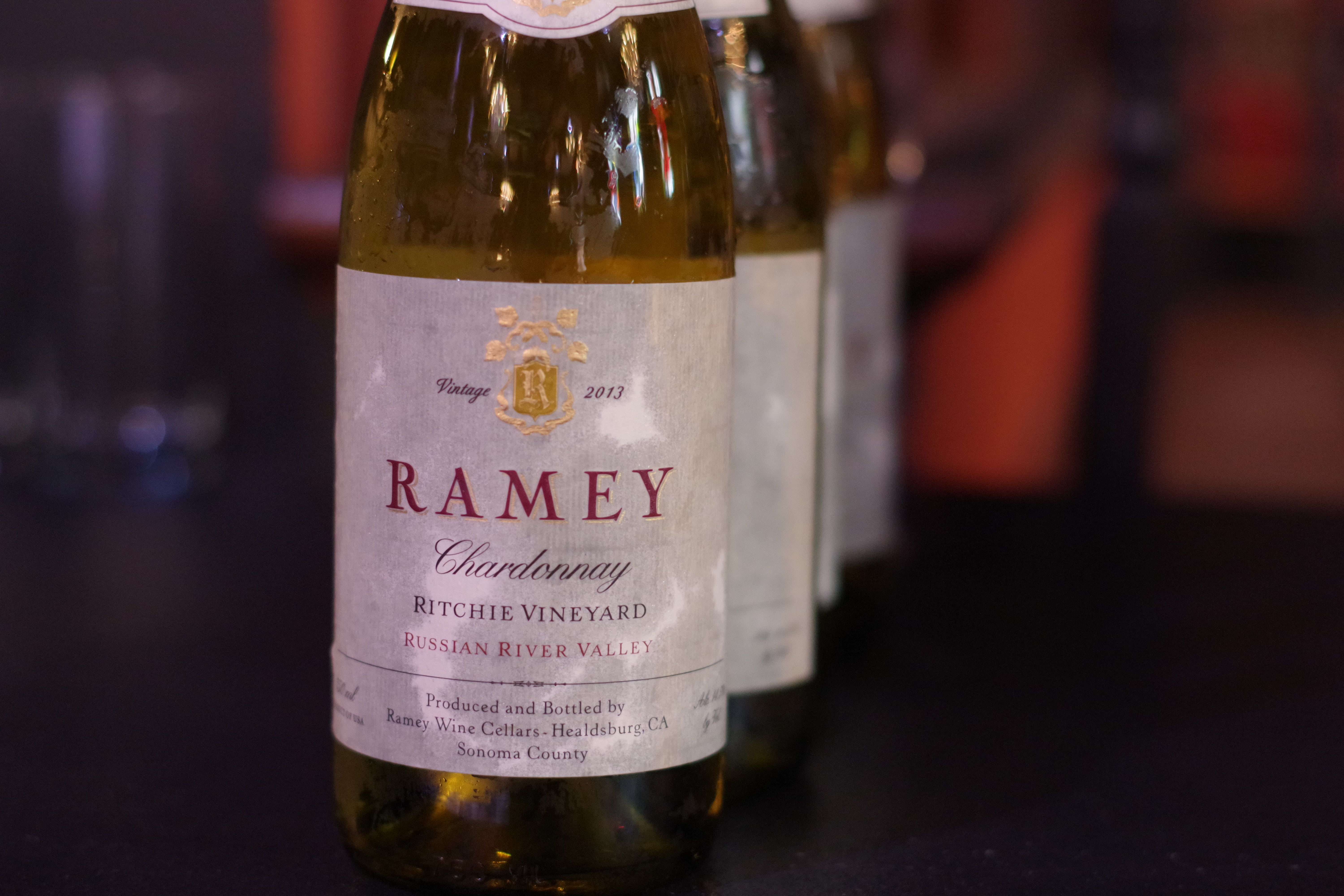 Ramey
Ramey wine cellars was founded in 1996 and has remained family owned since then. David Ramey had previously worked as winemaker in various big name estates such as Dominus on the other side of the Mayacamas or Petrus on the other side of the Atlantic.
Ramey wine cellars a été fondé en 1996 et est resté un domaine familial depuis. David Ramey avait précédemment travaillé comme vigneron dans divers domaines importants tels que Dominus de l'autre côté des Mayacamas ou Petrus de l'autre côté de l'Atlantique.