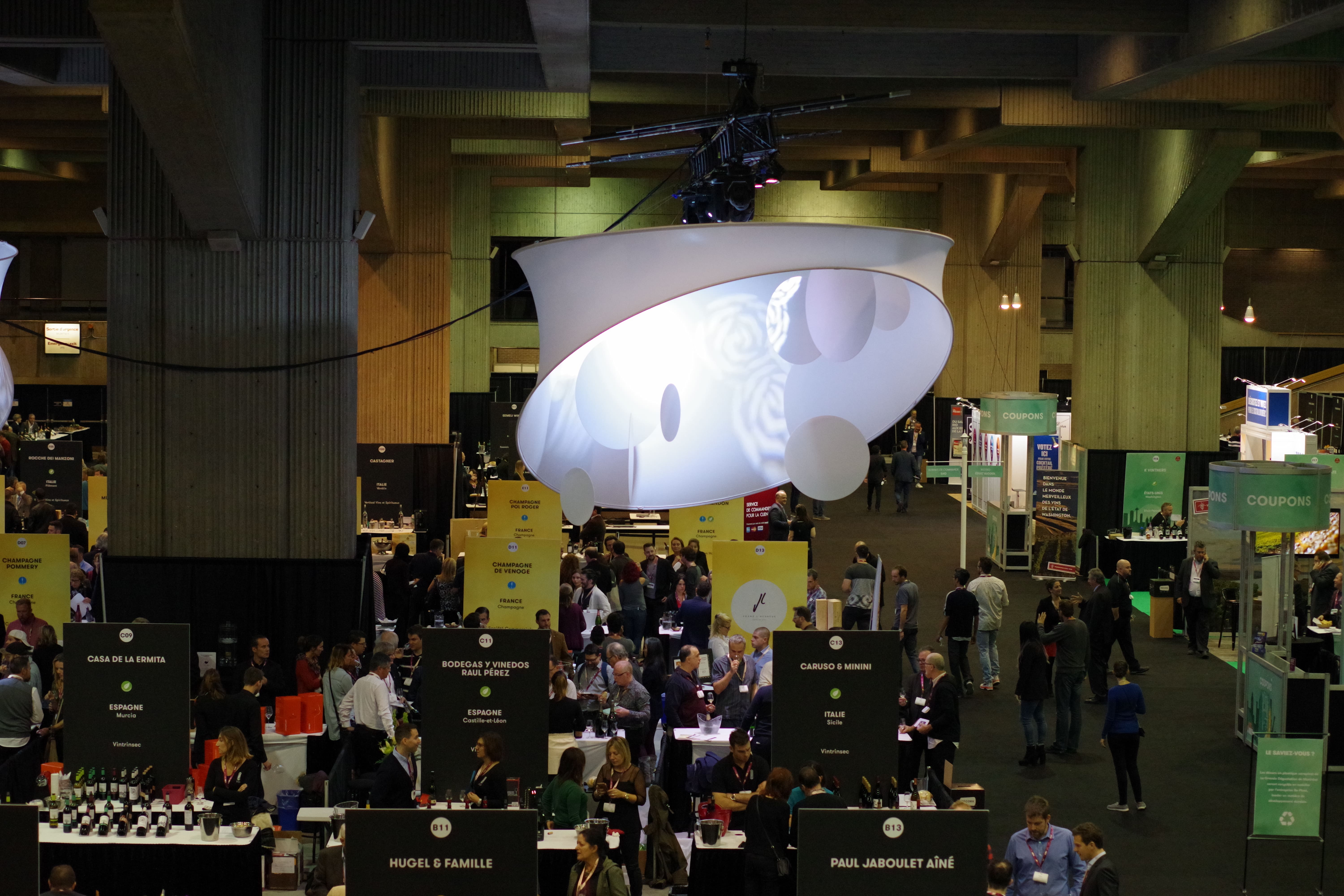 When Champagne meets Montreal, it's a very festive and bubbly combination. In the context of the 375th anniviersary of the founding of the City of Montreal, an array of celebrations took place initiated with the prestigious presence of the Order of Coteaux de Champagne followed by the Champagne fête Montreal Party evening then La Grande dégustation de Montreal. It was an incredible presence of Champagne houses and an exclusive opportunity for a Champagne Adventure.
Other themes were also presented. The invited region was Washington State, the rapidly growing industry and the cocktails section was running at full speed. However, there was a very notable enthusiasm for the Sparkling section with a larger crowd and busier stands, as expected. The event posting the second highest attendance rate of its history was proudly announced a success with a growing interest, motivation and curiosity from the participants. Well done.
Quand la Champagne rencontre Montréal, c'est une combinaison très festive et pétillante. Dans le cadre du 375e anniversaire de la fondation de la ville de Montréal, une série de célébrations ont été initiées avec la prestigieuse présence de l'Ordre des Coteaux de Champagne suivie de la soirée Champagne fête Montréal puis de La Grande dégustation de Montréal. C'était une présence incroyable de maisons de Champagne et une opportunité exclusive pour une aventure champenoise.
D'autres thèmes ont également été présentés. La région invitée était l'État de Washington, l'industrie en croissance rapide et la section des cocktails fonctionnait à plein régime. Cependant, il y avait un enthousiasme très notable pour la section pétillante avec une foule plus grande et des kiosques plus occupés, comme prévu. L'événement affichant le deuxième plus haut taux de participation de son histoire a fièrement annoncé son succès avec un intérêt croissant, la motivation et la curiosité des participants. Bien joué.
CHAMPAGNE ADVENTURE
Besserat de Bellefon
Besserat de Bellefon has its origins in 1843 when Edmond Besserat, founded his Champagne House in Aÿ. The marriage in 1920 of a descendant (another Edmond) to a certain Yvonne de Méric de Bellefon of Champagne nobility sealed the creation of Besserat de Bellefon.
Their fame in Paris especially was borne of a challenge issued to the House, by the Manager of the Parisian Restaurant La Samaritaine de Luxe in 1930, to create a Champagne with a creamy mouthfeel suitable to pair with his gastronomic creations. Thus was born the Cuvée des Moines, which owes the creamy style demanded to the use of less sugar in the liqueur de tirage to create a lower pressure (4.5 atmospheres) versus the conventional 6 atmospheres found in most champagnes, thus producing softer mousse. This iconic Cuvée des Moines is now available in five versions of champagne.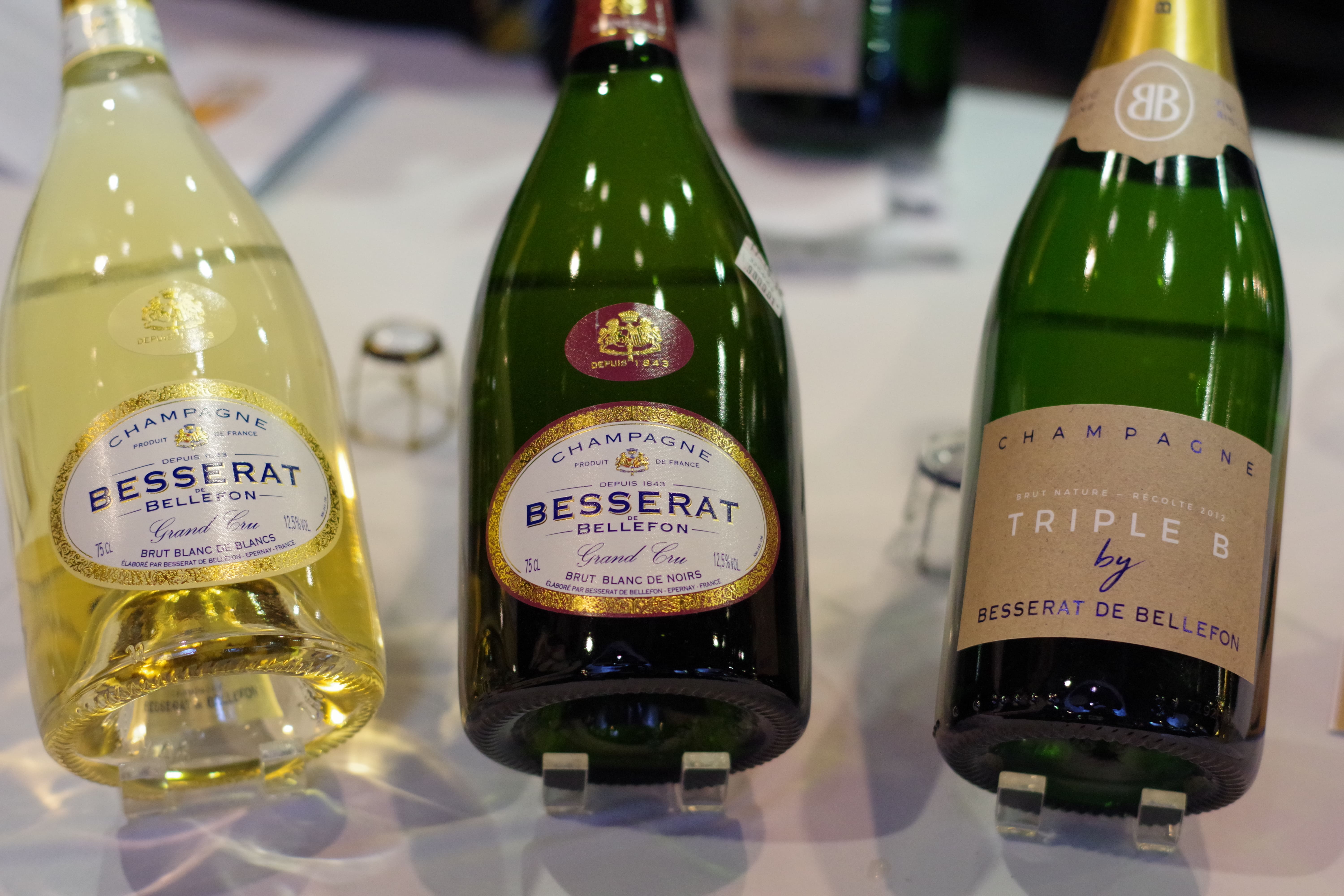 Besserat de Bellefon a ses origines en 1843 quand Edmond Besserat, a fondé sa maison de Champagne en Aÿ. Le mariage en 1920 d'un descendant (un autre Edmond) à une certaine Yvonne de Méric de Bellefon de la noblesse de Champagne a scellé la création de Besserat de Bellefon.
Leur notoriété à Paris vient notamment d'un défi lancé à la Maison, par le directeur du restaurant parisien La Samaritaine de Luxe en 1930, de créer un Champagne à la bouche onctueuse et apte à accompagner ses créations gastronomiques. Ainsi est née la Cuvée des Moines, qui doit son style crémeux exigé à l'utilisation de moins de sucre dans la liqueur de tirage pour créer une pression plus basse (4,5 atmosphères) que les 6 atmosphères classiques de la plupart des champagnes, produisant ainsi une mousse plus douce. Cette emblématique Cuvée des Moines est désormais disponible en cinq versions de champagne.
Bonnet Ponson
Established in Chamery since 1862, Bonnet-Ponson is Composed of more than 50 different vines plots spread over four villages of the north side of the Montagne de Reims : Chamery, Coulommes-la-Montagne, Vrigny as Premier Cru and Verzenay as Grand Cru.
During 30 years, Thierry Bonnet continued the development of the domain with the construction of new caves and the addition of one more hectare to the vineyard, several new parcels in the villages of Chamery, Vrigny and Verzenay. Cyril Bonnet joined the family domain in 2013, as the sixth generation, starting at the same time all of the vineyards began conversion to the organic method of cultivation.
Bonnet Ponson is what has become known as a "grower Champagne." Meaning, the winemaker is also the landowner and vineyard manager, as well as overseeing the production and blending of the wines from harvest to bottling. In the world of big Champagne houses and their massive productions, it is still relatively uncommon to have one estate oversee this entire process. "Les vignes-dieu" (vines of god) is one of the best lieu-dit of Coulommes-la-Montagne, on the south facing part of the village's vineyard.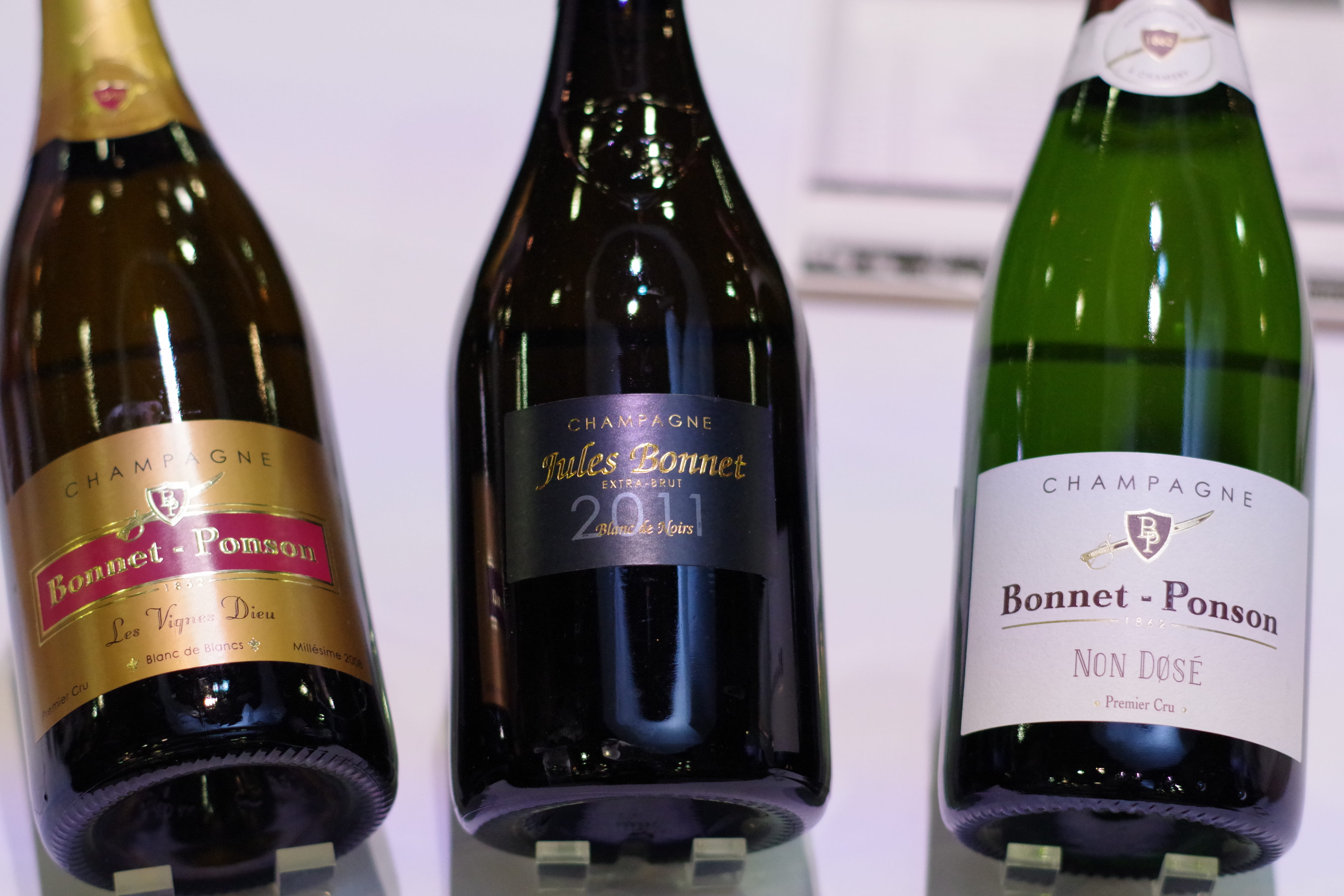 Implanté à Chamery depuis 1862, Bonnet-Ponson est composé de plus de 50 parcelles de vignes réparties sur quatre communes du versant nord de la Montagne de Reims: Chamery, Coulommes-la-Montagne, Vrigny en Premier Cru et Verzenay en Grand Cru.
Pendant 30 ans, Thierry Bonnet a poursuivi le développement du domaine avec la construction de nouvelles grottes et l'ajout d'un hectare de plus au vignoble, plusieurs nouvelles parcelles dans les villages de Chamery, Vrigny et Verzenay. Cyril Bonnet a rejoint le domaine familial en 2013, en tant que sixième génération. En même temps, tous les vignobles ont commencé la conversion à la méthode de culture biologique.
Bonnet Ponson est devenu connu comme un récoltant-manipulant. Ce qui veut dire que le vigneron est aussi le propriétaire et le gérant du vignoble, tout en supervisant la production et le mélange des vins de la récolte à la mise en bouteille. Dans le monde des grandes maisons de Champagne et de leurs productions massives, il est encore relativement rare qu'un domaine supervise tout ce processus. "Les vignes-dieu"  est l'un des meilleurs lieu-dit de Coulommes-la-Montagne, sur la partie sud du vignoble du village.
Deutz
Deutz, formerly known as Deutz Geldermann, is one of the grandest Champagne houses in the village of Ay, where it is neighbours to Bollinger. Founded in 1838 and now under the discrete ownership of the Rouzaud family, owner of Roederer, the house has managed to stay independently operated and keep its very own style and characteristics. With the talented Fabrice Rosset as the CEO and in addition to their property in Ay, Deutz has also acquired vineyards in the Cotes des Blanc. Mr Rosset was responsible for engineering the success of Roederer's premium cuvee Cristal, and has introduced his own line of prestige cuvees, Amour de Deutz. The House produces both vintages and non-vintages champagnes, along with the prestige cuvee "William Deutz" and "Amour de Deutz".
Deutz, autrefois connu sous le nom de Deutz Geldermann, est l'une des plus grandes maisons de Champagne du village d'Ay, où elle est voisine de Bollinger. Fondée en 1838 et aujourd'hui sous la discrète propriété de la famille Rouzaud, propriétaire de Roederer, la maison a su rester autonome et conserver son style et ses caractéristiques propres. Avec le talentueux Fabrice Rosset en tant que PDG, Deutz a également acquis des vignobles dans les Côtes des Blancs. M. Rosset a été responsable de l'ingénierie du succès de la cuvée prestige de Roederer, Cristal, et a présenté sa propre ligne de cuvées de prestige, Amour de Deutz. La Maison produit à la fois des cuvées millésimées et des cuvées non millésimées, ainsi que la prestigieuse cuvée "William Deutz" et "Amour de Deutz".
Billecart- Salmon
Billecart-Salmon is one of the few remaining Champagne houses to be owned by the original family and was established in 1818 by Nicolas-François Billecart and his wife Elizabeth Salmon. Most of Billecart-Salmon's fruit comes from a small vineyard holding, though this is supplemented with grapes bought in from the Marne Valley and the Montagne de Reims. They have an unusual use of Pinot meunier has this champagne house believes in the potential of this variety. The rosé is 30% meunier and 50% chardonnay which gives it a non-rosé taste. Even the brut réserve has 45% pinot meunier, a very high ratio.
Adjacent to the main offices is the Clos Saint-Hilaire parcel, which has served several purposes over the years. Formerly a tennis court, a vegetable garden and even a greenhouse, this one-hectare plot was planted exclusively to Pinot Noir in 1964. Today, farmed biodynamically with the use of draft horses, this vineyard is the source of the house's rarest cuvée, which is named after the site.
Another unique Cuvée is the brut Sous Bois entirely vinified in oak, with a fantastic richness of aromas and a powerful maturity.
Billecart-Salmon est l'une des rares maisons de Champagne à appartenir à la famille d'origine et a été fondée en 1818 par Nicolas-François Billecart et son épouse Elizabeth Salmon. La plupart des raisins de Billecart-Salmon proviennent d'une petite exploitation viticole, mais elle est complétée par des raisins achetés dans la Vallée de la Marne et la Montagne de Reims. Ils ont une utilisation inhabituelle de Pinot meunier car cette maison de champagne croit dans le potentiel de cette variété. Le rosé est 30% meunier et 50% chardonnay ce qui lui donne un goût très différent des autres rosés. Même le brut réserve a 45% de pinot meunier, un ratio très élevé.
La parcelle du Clos Saint-Hilaire, adjacente aux bureaux principaux, a servi à plusieurs fins au fil des ans. Autrefois terrain de tennis, potager et même serre, ce terrain d'un hectare a été planté exclusivement en pinot noir en 1964. Aujourd'hui, cultivé en biodynamie avec des chevaux de trait, ce vignoble est à l'origine de la cuvée la plus rare de la maison, est nommé d'après le site.
Une autre cuvée unique est le brut de Sous Bois entièrement vinifié en chêne, avec une richesse fantastique d'arômes et une maturité puissante.
Joseph Perrier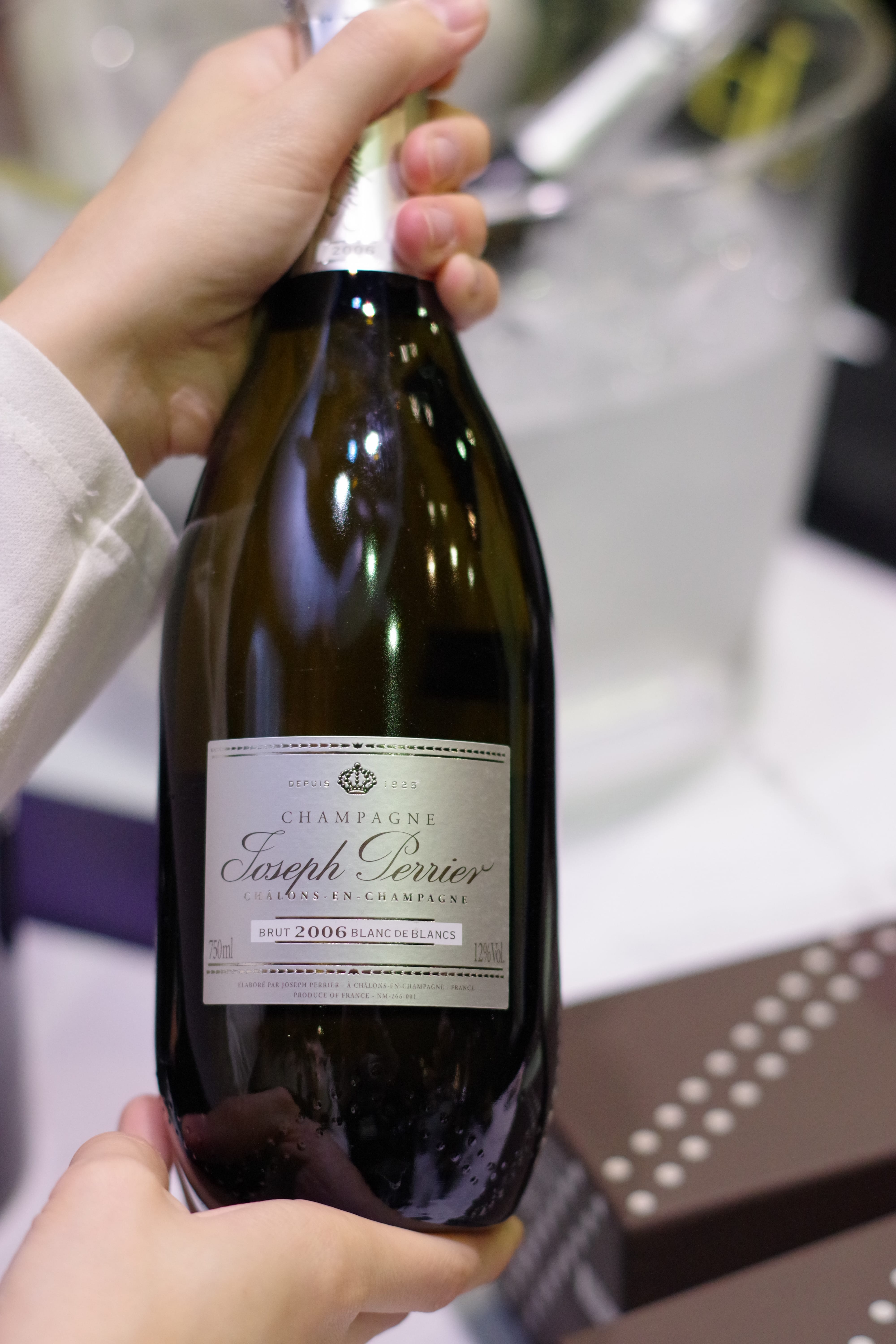 Joseph Perrier is an unusual champagne house. Based many miles south east of the traditional heartland of the Champagne region in the town Chalons-en-Champagne, they can enjoy a beautiful location for storing bottles: the chalk quarries dating back to Roman times. This family firm was founded in 1825.
They have a rather distinctive bottle. The Joseph Perrier bulbous bottle is modelled on a bottle they found in the archives that was used in the 1860s but also more attractive and technically better suited. Joseph Perrier follows other houses that have recently launched new exclusive bottle shapes to enhance their premium image, such as Bolllinger and Philipponnat.
Joseph Perrier est une maison de champagne inhabituelle. Basés à plusieurs kilomètres au sud-est du cœur traditionnel de la Champagne dans la ville de Chalons-en-Champagne, ils peuvent profiter d'un bel endroit pour stocker des bouteilles: les carrières de craie datant de l'époque romaine. Cette entreprise familiale a été fondée en 1825.
Ils ont une bouteille plutôt distinctive. La bouteille Joseph Perrier est calquée sur une bouteille trouvée dans les archives qui a été utilisée dans les années 1860, mais aussi plus attrayante et techniquement mieux adaptée. Joseph Perrier suit d'autres maisons qui ont récemment lancé de nouvelles formes de bouteilles exclusives pour rehausser leur image haut de gamme, comme Bolllinger et Philipponnat.
Ayala
Edmond de Ayala, founded the House in 1860. It quickly became a reference both in France and overseas. In 1882 it became one of the 18 founding members of the Syndicat of the Grandes Marques. Champagne went through a hard time, and Ayala almost perished in the growers' riots of 1911, when the rabble sacked the House of Ayala, only for it to be rebuilt and back in action by 1913. Ayala went through a golden age in the 1920s and 1930s, when it was one of the largest 10 houses in Champagne helped with tons of iconography and advertisement. Today and since 2005, the Bollinger family is the owner.
Ayala is known for its a delicate but pleasurable style, large chardonnay component, and low levels of dosage. The "sleeping beauty" reference is to its jewel-like Art Deco cellars from 1912, consisting of 1.6 miles of chalk tunnels extending 75 feet underground, which provide perfect temperature and humidity. The wines are crafted by Caroline Latrive, one of only 2 female cellar masters in Champagne.
Edmond de Ayala, fonda la Maison en 1860. Il devint rapidement une référence tant en France qu'à l'étranger. En 1882, il devient l'un des 18 membres fondateurs du Syndicat des Grandes Marques. Le champagne a traversé une période difficile, et Ayala a presque péri dans les émeutes des cultivateurs de 1911, quand la canaille a saccagé la maison d'Ayala, seulement pour qu'elle soit reconstruite et de nouveau en action en 1913. Ayala a traversé un âge d'or dans les années 1920 et les années 1930, quand il était l'une des 10 plus grandes maisons de Champagne aidée par des tonnes d'iconographie et de publicité. Aujourd'hui et depuis 2005, la famille Bollinger en est propriétaire.
Ayala est connu pour son style délicat mais agréable, son grand composant de Chardonnay et son faible dosage. La référence à la «beauté endormie» est celle de ses caves Art Déco, datant de 1912, qui ressemblent à des joyaux et qui se composent de 1,6 milles de souterrain de craie de 75 pieds de profondeur, qui fournissent une température et une humidité parfaites. Les vins sont élaborés par Caroline Latrive, l'une des deux seules femmes maîtres de Chai en Champagne.